Crookedest Streets in San Francisco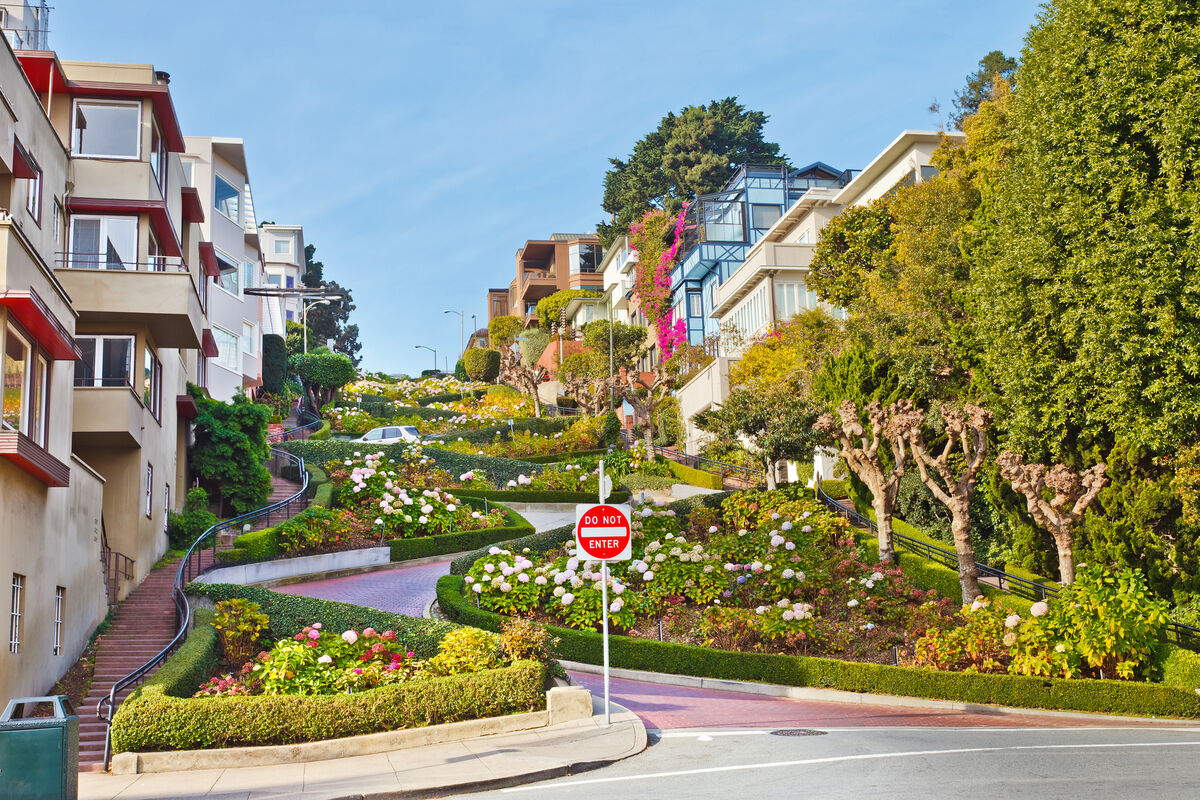 San Francisco's 43 crazy hills are every bit as steep as the guidebooks say. To make walking less like skiing, clever city planners built stairs into some sidewalks and switchbacks into streets like the famous Lombard Street, known as "the crookedest street in the world." Except that perhaps it isn't, as some people claim another San Francisco street earns that prize.
Lombard Street Is Famously Crooked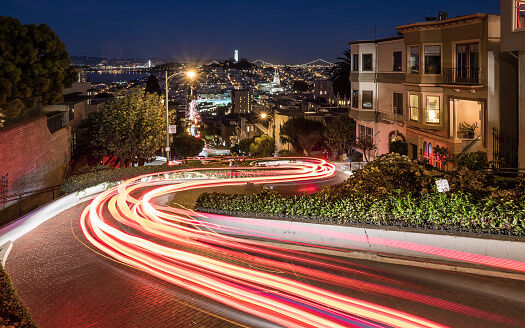 Even though Lombard Street atop Russian Hill isn't the crookedest, it's certainly the most famous. Guidebooks suggest tourists ride the Powell-Hyde cable car line to the top of Lombard Street where scores of people hop off every day to take photos. For the sheer fun of it, walk 600 feet around eight hairpin turns down the brick roadway between Hyde and Leavenworth Streets. With the enhancement of multi-colored hydrangeas, stunning bay views, and the signature bells of the next cable car cresting the hill, it's hard to beat.
Views From Lombard Street
On a clear day, there's a spectacular view in several directions. You can see the landmark silo of Coit Tower atop Telegraph Hill, the twin white spires of St. Peter and Paul, and the Bay Bridge. Out in the bay, Alcatraz Island and Marin are visible to the north, the downtown skyline to the south. And to the west, the unmistakable orange towers of the Golden Gate Bridge rise above the strait where the city's signature fog rolls in.
How did Lombard Street get that way and why? The 1000-numbered block of Lombard Street, once a straight street with a 27 percent grade, had its curves carved out in 1922 when the residents decided this was the way to make their street accessible to automobiles. Nearly a century later, the residents now wrangle with limiting the vehicular traffic. Today, about 250 steps built into the sidewalk on both sides of Lombard Street permit pedestrian passage beside one way, slow-moving traffic restricted to 5 miles per hour on the descent.
Is Vermont Street even more crooked? Few tourists make it to the one-way, residential Vermont Street section between 20th and 22nd Streets in the Potrero Hill neighborhood.
There are no cable cars clambering by and its view of a freeway cannot compare with a view of San Francisco Bay. However, some say it does challenge Lombard Street for tighter curves. Citing records from San Francisco Department of Public Works, San Francisco City Guides reports that Vermont Street's steep grade with "five full turns and two half turns" makes for a tighter turning radius. Lombard has eight turns while Vermont has seven... or is it five? Even the definition of turns is an open debate.
A neighborhood newsletter, The Portrero View, took a fresh look in 2016, reporting that "Lombard Street features an 18.18 percent grade, according to a 1977 San Francisco Chronicle story by Peter Stack. Vermont Street's grade, or steepness, is 14.3 percent, about four percent less steep than Lombard."
The publication also cites San Francisco Travel, the city's official tourism association, giving credence to the Lombard Street side of the question, while an article published by that same tourism organization indicates it's Vermont Street, after all.
Getting to Vermont Street
Vermont Street runs parallel to the U.S. 101 freeway, adjacent to a hilly green space known as McKinley Square. Paved in concrete and mainly of use only to residents, vehicular access is limited, as the street joins a pedestrian-only bridge overpass at its intersection with 22nd Street before continuing on the other side. The nearest public transportation access to the area is the Caltrain Station at 22nd Street and the Third Street Muni light rail stop at 20th Street, each about one mile away.
Star Quality Crooked Streets
Film SF, the City and County of San Francisco's office for film permissions, lists Lombard Street as one of a dozen most "frequently requested locations." Its twists and turns are featured in the 1968 film The Love Bug and in What's Up, Doc? with Ryan O'Neal and Barbra Streisand.
Many San Franciscans are not aware that Vermont Street is also a movie star as a film location in Bullitt, the Oscar-winning Steve McQueen action film of 1968. In 1973, as a rogue San Francisco cop, Clint Eastwood displays his driving skills on Vermont Street in Magnum Force, and The Streets of San Francisco also used Vermont Street for riveting television crime drama chase scenes.
Where Steps Substitute for Curves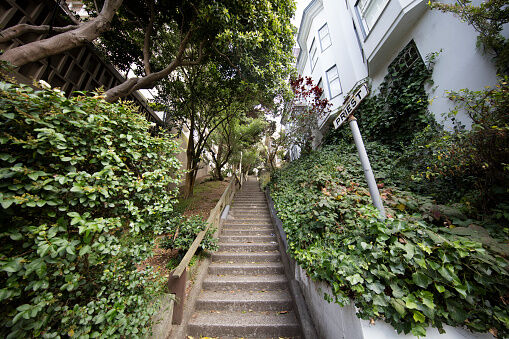 Some of San Francisco's crazy hills leave no space for cutting curves into the topography, so hundreds of steps are used instead. Where Cow Hollow meets Pacific Heights, the 322 Lyon Street Steps connect Green Street to Broadway. The east side is bordered by multi-million dollar homes, including the private residence of Senator Dianne Feinstein. Super fit locals wearing headphones take the stairs two at a time while at midpoint, tourists pause to capture shots that frame a golden San Francisco heart sculpture inside the view.
On top of Telegraph Hill, the fluted white silo of Coit Tower has been a fixture on the San Francisco skyline since 1933. Steep doesn't even begin to describe the ascent via two sets of several hundred rickety wooden stairs, the Filbert and Greenwich Street Steps. Pedestrians hike through lush unmanicured foliage, past pretty Gold Rush cottages and flocks of wild parrots cawing loudly from tree limbs and wires overhead.
Steepest Streets in San Francisco
Neither Lombard Street nor Vermont Street are even close to being the steepest streets in San Francisco. The most recent list was published in 2016 by 7x7 Magazine based on findings by computer scientist Stephen Von Worley, the National Elevation Dataset and Open Street Maps. The steepest streets in San Francisco are:
Bradford above Tompkins (41% grade)
Romolo between Vallejo and Fresno (37.5% grade)
Prentiss between Chapman and Powhattan (37% grade)
Nevada above Chapman (35% grade)
Baden above Mangels (34% grade)
Ripley between Peralta and Alabama (31.5% grade)
24th between De Haro and Rhode Island (31.5% grade)
Filbert between Hyde and Leavenworth (31.5% grade)
22nd between Vicksburg and Church (31.5% grade)
Broadway above Taylor (31% grade)
As the saying goes, "When you get tired of walking around in San Francisco, you can always lean against it." Tackle these hills on foot, by car, or hanging off the rails of a cable car. Bicycles just won't do. San Francisco drivers must always curb the wheels when parking to prevent runaways and, where signs are posted, never parallel park on these crazy hills.