San Francisco Convention and Visitors Bureau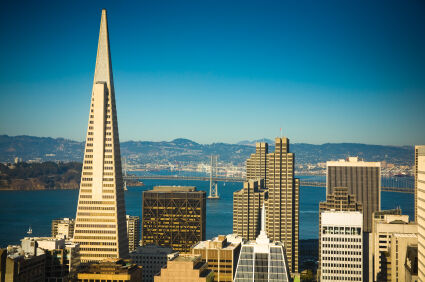 San Francisco Convention and Visitors Bureau is an outstanding resource for visitors and residents of the Bay Area. Whether you're in the city for a weekend getaway or staying on business for weeks on end, the Bureau is your one-stop source for everything San Francisco.
About the San Francisco Convention and Visitors Bureau
The San Francisco Convention and Visitors Bureau (SFCVB) has a simple goal: strive to make San Francisco the most compelling destination in the world. To help achieve this goal, the Bureau spends countless hours marketing San Francisco and the Bay Area as the premier destination for conventions, special events and leisure travel.
SFCVB has been promoting the finer points of the Bay Area for nearly 100 years. The Bureau started as an offshoot of the San Francisco Convention and Tourist League, a non-profit, local business association founded in 1909 in the wake of the infamous 1906 earthquake and fire. Back then, the League's goal was to reclaim San Francisco's reputation as a world-class destination despite the mass devastation. Today, the Bureau continues the League's mission, to aggressively market San Francisco and attract as many visitors to the area as possible.
Fortunately, all the hard work is paying off. According to a recent study, in 2009, San Francisco hosted 15.4 million visitors who spent $7.8 billion during their stay. That breaks down to roughly $21.5 million a day and illustrates how important tourism is to the city and surrounding neighborhoods.
Other impressive statistics obtained by SFCVB include:
4.5 million overnight visitors stayed in commercial accommodations in 2009. However, if you add visitors who stayed just for the day and those who stayed with friends or relatives, or in surrounding communities, the total jumps to 15.4 million visitors a year.
26 percent of visitors to San Francisco live within a day's drive of the city. In 2009, that translates into 4.2 million leisure visitors from Northern California alone.
23 percent of visitors to San Francisco extend their trips to Napa Valley, while 14 percent venture on to Sausalito. These side trips are still counted by SFCVB, as they impact local businesses and help network the city to an international community.
San Francisco Convention and Visitors Bureau Helpful Resources
SFCVB is not all about the numbers. It truly is an incredible resource for residents and visitors alike. The Bureau's website is chockfull of amazing facts and recommendations for everything from restaurants and live entertainment to shopping and schools.
Here are some of the most popular resources available to you from SFCVB:
Major Events: Every week the Bureau posts a review of some of the best events and happenings in San Francisco. You can even plan your visit beyond the current week by viewing the site's event calendar in its entirety.
Lodging: San Francisco's lodging options are plentiful. The city is home to a variety of accommodations from boutique to majestic. To get help finding the hotel that will best suit your preferences and budget you can call 800-313-8048 and a SFCVB representative will assist you.
Dining: The Bay Area is famous for eclectic menu options. Whatever your taste buds desire, you'll find it in San Francisco. Simply peruse the restaurant reviews listed on the Bureau's site and you can find the perfect culinary creation.
Shopping: Shopaholics will be in heaven browsing through all of the discount outlets and world-class department stores that call San Francisco home. The area is a Mecca for shoppers and the Bureau has a complete list of the best of the best on its website.
Gay Travel: San Francisco prides itself on being the gay capital of the world. With its high-flying rainbow flags, brightly painted Victorian houses and vibrant nightlife, you won't have trouble finding a place to fit in, especially if you review SFCVB's top gay travel picks.
Special Offers: One of the best resources offered by the Bureau is its list of special offers. From complimentary desserts, appetizers, and free wine tasting to 15 percent off San Francisco tours and event tickets, you can find a plethora of ways to save big in the city and surrounding areas on SFCVB's site.
Transportation: You can obtain current traffic reports and view San Francisco's legendary public transportation options, including the city's world-famous cable cars. You can also obtain information on ferry options, airports, limos and cabs.
If you don't have access to a computer, you can still take advantage of all of the helpful resources listed on SFCVB's site. Simply call the Bureau's Visitor Information Services office at 415-391-2000, or you can stop by in person to pick up brochures, coupons and maps at the downtown location at 900 Market Street.