Airport Shuttle Transportation in San Francisco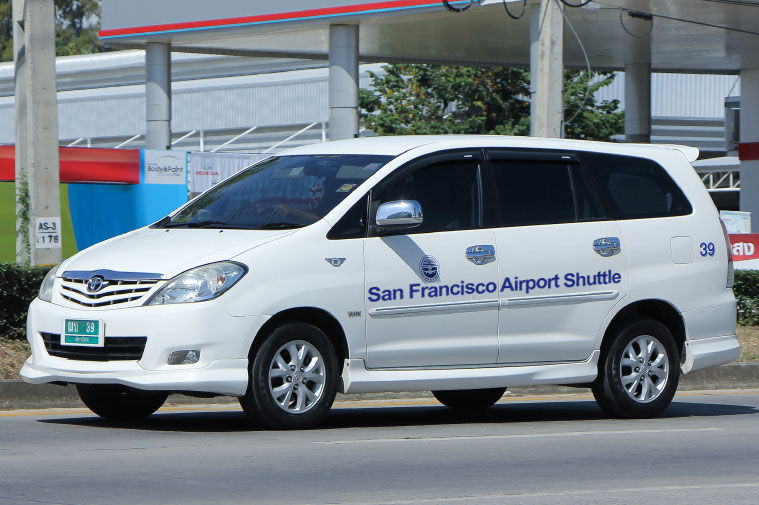 San Francisco International Airport (SFO) is about 13 miles south of downtown San Francisco, and shuttles offer a popular and relatively inexpensive way to travel between the city and your terminal. Compare services from several different companies before you choose which company you want to book.
Comparing Airport Shuttles in San Francisco
There are several shuttle services that pick up passengers at SFO terminals and deliver them to destinations around San Francisco. All the shuttles will pick you up from a hotel or residence throughout the city and take you back to SFO. Expect to pay no more than $20 per person between downtown San Francisco and the airport. Discounts are often offered for a second passenger, and you can pay with cash or credit, or even book online. Some services offer deals for booking more than one passenger at a time. While this can be a bargain for one or two people traveling together compared to a taxi, the savings will add up if you have more than two people paying for the shuttle.
Advanced Airport Shuttle provides shuttle service to and from SFO in updated vans that are also available for charter rental. According to reviews, drivers deliver passengers to downtown San Francisco first, so if you are staying there, that will be a bonus for you. If you are staying elsewhere in the city, you might want to enjoy a good book for the roundabout drive home.
Rates and details:
Shuttles between San Francisco and SFO are $17 for the first person and $13 for each additional passenger.
For group charters, the service offers a flat rate of $75 for transport between San Francisco and SFO.
Advanced claims to use recent model vehicles.
Airport Express operates out of downtown San Francisco, which enables the service to accommodate last-minute requests. Its dispatchers match riders up by geographic location, so getting to and from the airport is quick. Reviewers remind potential customers to call the dispatcher at least once to make sure you will be picked up. The hours of operation begin at 4:30 a.m. and end at 10 p.m.
Rates and details:
One way service is $17 per adult and $12 per child.
Round trips are $30 per adult and $20 per child if booked in advance.
The service makes regular trips to Fisherman's Wharf to pick up passengers.
For online reservations, book 24 hours ahead of pickup time.
Cancelations require 24 hours notice.
American Airporter Shuttle
American Airporter doesn't offer a lot of information other than its rates, but reviewers said the service is hit or miss. As with any shuttle service, if you're looking for a cheap way to get to the airport, call the dispatcher to make sure the company has your correct address, as well as the time you need to be picked up.
Rates and details:
Rates are $19 for the first passenger, and $12 for each additional passenger with a reservation.
The rate for children ages two to 12 is $8.
The company also offers family rates and city tours.
Go Lorrie's Airport Shuttle
Go Lorrie's offers shared van services and private van services with pickup points throughout SFO. While this is an old company, it is owned by a corporation that operates out of dozens of airports around the world, and it's one of the cheaper shuttle options. Reviewers shared good and bad points about their experience, and an overview of these reviews suggests that this service was cheap, but unreliable.
Rates and details:
This service costs $16 per person one way, but you can get $2 off when you book online.
If you are traveling with a lot of luggage, note that there's an extra charge for more than two checked pieces of luggage and one carry on.
Private van service is available for up to seven passengers for $75, or $95 for 11 passengers.
The company's website has SFO pickup locations clearly marked on a detailed map.
Locally owned and operated, Quake City Shuttle offers competitive prices and operates seven days a week, including holidays. Vans are on the road between 4:00 a.m. and midnight. However, the company's dispatch does not open until 6:00 a.m. Like the other shuttle services, reviews are mixed, but Quake City's website claims the service will give you a 15 minute window for pickup.
Rates and details:
Quake City offers $13 and $15 coupons per person.
Book online to receive the discount.
The company claims to be fully licensed and insured.
San Francisco City Shuttle
San Francisco City Shuttle claims it is the only service to offer no more than three stops between SFO and San Francisco. This could be good news if you have a limited amount of time on your hands. The services offers a 10-minute window for scheduled pickups. The service also offers a charter shuttle for large groups. However, many reviewers noted the service was unreliable.
Rates and details:
Rates run $11 from the hotel for adults, and $8 for children from two to ten years old.
The cost is $17 for a residential pick up for first passenger, and $12 each additional passenger at the same stop. This is a great deal for a shuttle service, but you must pre-pay when you make your reservation.
Charter service is available for $65 for seven people, and $75 for nine to 11 people.
Operated by a large company, SuperShuttle will pick you up at the airport and deliver you to your destination. How long that takes seems to be up to the driver. Many reviewers complained of circling the airport a few times. They also complained about drivers going out of their way to pick up passengers throughout the city, as well as drivers taking smoke breaks. That said, iyou do not need a reservation if you are at the airport; just call the dispatcher.
Rates and details:
The service costs $17 per person.
Charter vans are available for up to nine passengers for $75.
A mobile app allows you to book your shuttle on the go.
Extra charges apply to luggage weighing more than 50 pounds, as well as for irregularly sized items like surfboards or skis.
Other Transportation Options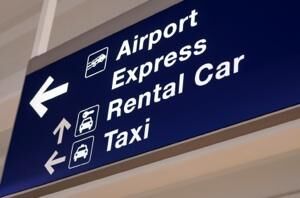 Taxis are a popular option to get to and from SFO because they are everywhere and will get you where you need to go quickly. However, expect to pay between $40 and $55 to get from the airport to downtown San Francisco. Taxis can be handy if you're traveling with a lot of baggage or your party consists of three or four people. Taxis can also be helpful if you arrive at an odd hour when the airport is very quiet. You will find a queue of taxis in designated taxi zones throughout the airport.
Many travelers choose to take the Bay Area Rapid Transit system (BART) to and from the airport because it's cheaper than other options and will take you right to the terminal. Expect to pay about $8.50 for an adult fare between SFO and downtown San Francisco.
There are some drawbacks to using the system. Travel time can be longer, sometimes taking up to 45 minutes to travel from downtown San Francisco. If you are traveling with a lot of luggage, it will be more cumbersome to lug it around the BART stations, escalators and ramps. Also keep in mind if you're arriving at SFO late at night, BART's last train leaves at 11:45 p.m.
If you prefer to arrive in the city in style and can afford it, you may want to hire a private car service that will provide you with a luxury vehicle to take you to your destination from the airport. Rates can be pricey, averaging between $60 and $100 per trip. There are many car services to choose from, and some offer discounts for booking online.
While BART can get you to the city for less than $10, it's not an ideal mode of transportation if you have a lot of luggage. Taxis on the other hand, can handle the luggage, but can easily cost $40 or more (before the tip). Town cars are a good investment for groups of four or more people; however, the luxury becomes a bit pricey for smaller groups and singles.
With a multitude of transportation options for traveling from SFO to downtown San Francisco, there's no reason to find yourself stranded at the terminal. Airport shuttles offer a lot of flexibility and a good price, even if customer reviews give some of these services a less-than-ideal rating. If you like a particular service, you can have your hotel concierge arrange for the shuttle to take you back to SFO when you are finished with your trip.