Alcatraz Facts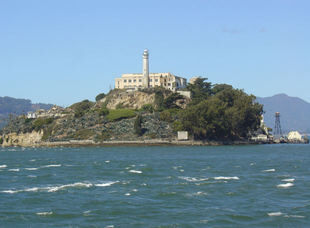 One trip to Alcatraz is simply not enough to learn all there is to know about this legendary prison in the San Francisco Bay. If you're planning a visit to "The Rock," here are some useful tips and background information to enhance your experience, as well as details on scheduling a tour.
Alcatraz Island is one of the most popular attractions in the United States. This former prison turned national park is located in San Francisco Bay, roughly one and a half miles from the nearest shoreline. The island has a storied past that includes its transformation from the site of a single lighthouse, to a military fortress, to a federal prison, and finally a national park.
Since 1934, when the United States Department of Justice acquired the 22-acre island to create a federal prison, until its closing in 1963, Alcatraz has made its mark on San Francisco's history. Today, Alcatraz Island is operated as a historical site and is maintained by the National Park Service as part of the Golden Gate National Recreation Area. Each year, about 1.4 million visitors ride the ferry from Pier 33, near San Francisco's famous Fisherman's Wharf, to what many refer to as "The Rock," to experience the legendary site in person.
The history of Alcatraz Prison is varied, fascinating, and at times tragic. While the Rock is just over a mile off San Francisco's touristy Pier 39 and Fisherman's Wharf, for the prisoners behind bars there, that distance was tortuously close and maddeningly far. Alcatraz's history as a prison is well known, but that only encompassed a mere twenty-nine years. As any self-respecting geologist knows, rocks have a long history and this 25-acre rock island's history goes well beyond it's time as a cold tough prison. A geologist might simply be curious about the mineral content of the Rock, while most non-rockhounds will prefer Alcatraz's history and legends.
Alcatraz Island has an amazing history, some of which is not widely known. Here are some fascinating facts about the place where the nation's most hardened criminals met their match:
A Spaniard named Juan Manuel de Ayala christened Alcatraz Island in 1775. He dubbed the island "La Isla de los Alcatraces," which roughly translates to, "The Island of the Pelicans."
Native tribal groups that included the Miwoks and the Ohlones believed that Alcatraz was possessed by evil spirits, and banished tribal members were exiled here. Otherwise, the island was generally avoided.
In 1846 ownership of the island was granted to Julian Workman by the Mexican Governor Pio Pico under the stipulation that he build a lighthouse.
Later that year, John C. Fremont bought the island for 5,000 dollars.
In 1848, the United States government sued for possession of Alcatraz Island and won.
In 1853, the U.S. military began fortifying the island. The government's work yielded the construction of Fortress Alcatraz, which was manned by about 200 soldiers.
When the Civil War broke out in 1861, the island had more than 100 cannons mounted around its perimeter, though none of them were used to fire shots.
During the war, Alcatraz became a holding space for Confederate sympathizers and other Civil War prisoners.
Post-1906 San Francisco Earthquake, many civilian prisoners from the city's jails were transferred to Alcatraz for temporary detention during rebuilding.
In 1909, construction began on the huge concrete main cell block, which remains the island's dominant feature. For decades, Alcatraz's three-story cell house was considered the world's largest steel-reinforced concrete structure.
The massive jail was transferred to the Bureau of Prisons in 1933, and thus began Alcatraz's reign as the nation's most famous penitentiary.
On October 12, 1933, the U.S. Department of Justice took possession of Alcatraz with the intention of converting it to an inescapable maximum security prison. With its isolation, treacherous currents and chilly waters, Alcatraz was considered ideal for housing the worst of the worst offenders.
Alcatraz's era as a prison came to a close on March 21, 1963, primarily for financial reasons. Because of its isolation, The Rock was just too expensive to operate. Everything -- water, food, clothing, equipment and supplies -- had to be brought by boat. The marine climate also took a heavy toll on facilities that needed constant maintenance and renovation.
In 1969, a Native American activist group called the United Indians of All Tribes occupied Alcatraz, claiming it as Native American territory based upon the Fort of Laramie Treaty of 1868.
On June 11, 1971, Federal Marshalls raided the island and arrested the remaining 11 Native American occupiers, and the 19-month occupation ended.
During the 29 years it was used as a federal prison, Alcatraz held such notable criminals as:
Al Capone: Known as Al "Scarface" Capone, this legendary inmate was one of Alcatraz's first prisoners. He was nicknamed "the wop with the mop" while on cleaning duty.
Robert Franklin Stroud: This legendary criminal was also known as the "Birdman of Alcatraz." Contrary to the popular film released in 1962, Stroud never kept any birds, but he did publish two books on them.
Alvin Karpis: To this day, Karpis is known for serving more time at Alcatraz than any other inmate - 26 years .
George "Machine Gun" Kelly: The infamous robber-turned-murderer spent 17 years at Alcatraz.
Despite 14 attempts by 36 prisoners over 29 years, no one ever successfully escaped Alcatraz. According to official records, 23 would-be escapees were caught, six were shot and killed during their escape attempts, and three were lost at sea and never found.The most violent escape attempt occurred on May 2, 1946, when six prisoners tried to break out of their cells and triggered what is known as the "Battle of Alcatraz." The succession of headline-grabbing escape attempts was one of the reasons Attorney General Robert Kennedy elected to close Alcatraz in 1963.
Alcatraz was declared a National Historic Landmark in 1986 and is now listed as one of the most popular attractions in the United States. Each year, nearly two million visitors tour the famous penitentiary and its historic gardens. Tourists are welcome to roam the island, now home to endangered species including the peregrine falcon and brown pelican.
Cruises to The Rock depart from Hornblower Alcatraz Landing at Pier 33 near Fisherman's Wharf. Since parking is limited, consider using one of the many public transit services to the area. A handy way to organize your trip to Hornblower Alcatraz Landing is to visit the 511 TakeTransit Trip Planner. This official site contains a wealth of links to local services, fares, schedules and maps.
Alcatraz Cruises is the official tour provider to the Rock. Early bird departures begin at 9:00 am, giving visitors a head start on the crowds. Tickets frequently sell out, so it pays to book your cruise in advance on the company's website, especially if you visit during the summer and on holidays. There is no food service available on Alcatraz, but snacks and beverages are available on all boats headed to and from the island.
Your tour should take between two and three hours and involve plenty of walking, so be sure to wear comfortable shoes. You might also want to dress warmly, since the San Francisco Bay can be quite chilly, especially at night. If you have a mobility issue, you can take a tram up the steep path that leads from the ferry dock to the prison buildings. Just ask for assistance when you arrive.
On the daily tours, Alcatraz visitors are treated to a host of fast facts about the historic prison. A few examples include:
There were no executions at Alcatraz, although there were five suicides and eight murders.
The average length of stay for prisoners at Alcatraz was nine years.
There were no female correctional officers or prisoners at Alcatraz.
The cell house, which could fit 336 prisoners, was never filled to capacity. The average number of prisoners was 260, and the maximum was 302.
Many believe that those who died at Alcatraz still haunt the island. Some visitors claim to have heard men screaming, whistling, and talking, and doors clanging in the prison during daylight hours. In addition, several police officers have reported seeing ghostly apparitions while guarding the island.
If you ask a group of San Francisco natives about the best way to see "the Rock," many will recommend a night tour. When the day ends and the crowds depart, you'll see the penitentiary lit up against the darkening sky, backed by a gorgeous San Francisco Bay sunset. You can also take advantage of special programs offered only during the evening hours.
Night tours include both guided and self-guided portions, where visitors can explore the cell blocks at their leisure. You can also take advantage of special evening programs, such as discussions on how prisoners handled living in isolation and a history of the families, including women and children, who lived there.
Alcatraz night tours are limited to just a few hundred people, so it's imperative that you book in advance. You can reserve tickets via the Alcatraz Cruises website.
An Unforgettable Experience
With its nefarious history, Alcatraz Island continues to draw visitors from all over the world. Luckily, all tourists are paroled by the end of the day and can return to the City by the Bay with their slates clean and their debt paid to society--or at least to the National Park Service.