Ano Nuevo State Park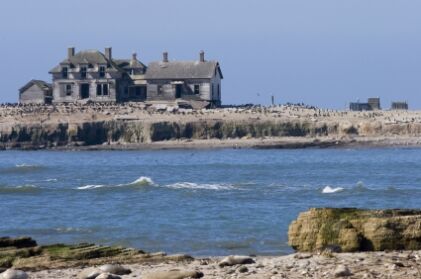 If you love nature, then you'll definitely want to make the scenic drive to Ano Nuevo State Park. Although this park isn't actually in the city of San Francisco, visitors often add a visit to this lovely oceanfront park to their itinerary. What is the biggest lure of this particular state park? The elephant seals! Ano Nuevo's beach is the location of the largest mainland breeding colony of seal elephants.
Directions to Ano Nuevo State Park
Although it might take you approximately an hour and a half to drive the fifty-five miles from San Francisco to reach Ano Nuevo, the drive is definitely worth it. Simply take State Highway south out of San Francisco. The park is located halfway between Santa Cruz and Half Moon Bay. Along the way, you'll see breathtaking views of the Pacific Ocean!
Although the elephant seals can be viewed on the beach at Ano Nuevo almost year round, there are different guidelines for visiting during different times of the year.
If you are planning your trip to this area in the first two weeks of December, you'll need to make other arrangements. During this time, adult males and pregnant females make their way to the beach. They will form harems, and they need their privacy. No visitors are allowed at this time.
You may view the elephant seals during this time period but only through a guided walk. You'll need to call 1-800-444-4445 for reservations. During this time period, the elephant seals come to the shore to give birth to their pups and to mate. While most of the adults will leave sometime in early March, the pups usually remain behind.
During this time, you can access the viewing area on your own from 8:30 a.m. to 5:00 p.m., but you must first obtain a free visitor's permit at the main building. You will be able to follow a path that leads to a boardwalk where you can observe these fascinating animals. During this time, they head to the shore to molt, which is the shedding of their outer fur and skin. There are often park volunteers at the viewing area to answer your questions.
September 1 to November 30
The elephant seals aren't as numerous for viewing during this time period since most of the older seals have returned to the ocean in search of food. You may still take self-guided tours after obtaining a free visitor's permit, but you must exit the viewing area by 4:00 p.m.
Important Facts about Ano Nuevo State Park
There are several important facts you need to remember before you begin your visit.
The hike is approximately three miles round trip.
Plan on spending at least a couple of hours walking and viewing.
Although some of the pathways are rugged and bumpy, it is possible to push a stroller most of the way to the viewing area.
You do not want to get any closer than twenty-five feet to an elephant seal. Remember-They are wild animals!
There is a no smoking and no fire ordinance for the whole park.
You are not allowed to collect anything from the park, including rocks, plants, shells, and wood.
Pets are not allowed in the park, and there isn't a kennel available for you to place your pet in while you are visiting.
Ano Nuevo Main Office-650-879-0227
Guided Walk Reservations-1-800-444-4445
Disabled Reservations-650-879-2033
International Reservations 916-638-5883
Other Animal and Bird Sightings
Although the elephant seals are the most well-known animals at Ano Nuevo State Park, there are other animals that call this area home. You may even be lucky enough to see a few. Some of these animals include the following:
Sea otters-You can often witness sea otters frolicking in the ocean, surfing for their dinner.
Mountain lions
Bobcats
Coyotes
Foxes
Rabbits
Skunks
Weasels
A variety of birds may also be seen, and these may include the following:
Hummingbirds
Hawks
Falcons
Quail
Finches
Sandpipers
Pelicans
Sparrows
Wrens
Mallards
Don't Forget These Items!
Finally, there are several items you'll need before you begin your visit to Ano Nuevo.
You'll want to take lots of pictures, so don't forget your camera!
Wear comfortable walking shoes.
Take a jacket! The wind can be chilly even in the summer.
You'll be in the sun quite a bit, so use sunscreen.
Take your time and enjoy the walk!