Aquarium by the Bay San Francisco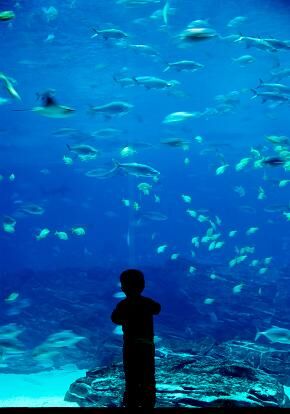 Learn about the most popular San Francisco attractions
Families visiting Aquarium by the Bay San Francisco will get a kick out of exploring an aquarium of the San Francisco Bay - an impressive marine life exhibition located in the heart of San Francisco.
An Aquarium by the Bay San Francisco - Fun Guaranteed
When you plan a trip to San Francisco, your family's interests may scatter in a dozen different directions. The Bay Area offers such a diverse array of activities, it may be hard to find one to agree upon. Fortunately, Pier 39 kept this in mind when they built an aquarium by the bay, one of San Francisco's premier family attractions.
Officially known as the Aquarium of the Bay, its buildings are located at the Embarcadero near great restaurants and within walking distance of shops and other tourist destinations. Open 364 days a year, this aquarium gives visitors an opportunity to meet over 20,000 local marine animals. All native to the San Francisco Bay, you won't believe the bustling sea community that resides beneath, rivaling the equally bustling city life above. From sharks to starfish, children and adults alike will love the aquarium's various exhibits and invitations for interaction.
You will start your journey through the aquarium by receiving an introduction to the ecosystems operating throughout the bay's waters. Eight displays introduce you to over a thousand different sea animals, and guests of all ages will be amazed at their diversity.
After you have gotten your basic bay orientation, you will travel through a moving walkway that will show you 20,000 aquatic residents living in approximately 700,000 gallons of bay water.
A secondary tunnel will take you into the deeps, showing you bat rays, sharks, and other bottom dwellers just waiting to lurk and smirk at a new spectator.
Once you resurface, children can feel live rays, leopard sharks and other tide pool species in an impressive recreation of coastal California. Your entire family will love the chance to interact with gorgeous marine life - those who truly represent San Francisco's unique location.
An Unforgettable Birthday
If you have a child turning between 2 and 12 years old during your visit to the aquarium, consider having a birthday party there. Packages are available for families, including ocean-themed table settings, a story time led by an official aquarium naturalist, and plenty of time to tour the aquarium as a group. For older children, a personalized tour guide is also available.
Prices for a birthday party vary, but average out at around $500, which includes quite a bit of time, interaction and fun for all your guests. Parties are typically designed for groups of up to 35 children and adults.
Groups can also arrange for a sleepover at the aquarium, where participants drift off into dreamland with visions of marine animals swimming through their heads. Guests literally sleep in clear tunnels, surrounded by the creatures they grew acquainted with during the day. A minimum of 25 participants will grant you access to this unique night, and the memories are invaluable.
Tickets and Operating Hours
The Aquarium by the Bay San Francisco is open for business every day except Christmas. Hours vary depending upon the season and scheduled special events, so be sure to contact them for operating hours on the day you are planning a visit. Tickets are available at a reasonable price for adults with reduced prices for children. You can also take advantage of their family rate packages and behind the scenes tours for an even more rewarding experience.
To purchase tickets, go to the admission booth of the aquarium or order them online at their official website.