Asian Cooking Classes in the Bay Area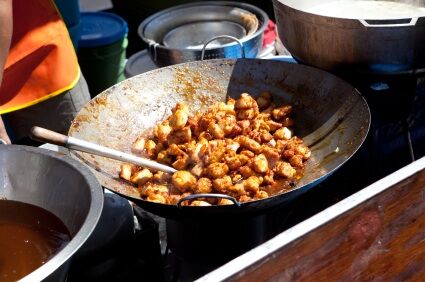 Are you looking for Asian cooking classes in the Bay Area? The Bay Area boasts both a large Asian community and a collection of some of the most passionate foodies in the world, so it stands to reason that finding a cooking class where you can learn to cook your favorite Asian dishes should surely be possible. Read on to learn where to find the best Asian cooking classes in the Bay Area.
Finding Asian Cooking Classes in the Bay Area
The umbrella of Asian food is clearly a large one. From Indian to Thai to Chinese to Japanese to Vietnamese to Cambodian and so on, one could work up quite an appetite trying to list their favorite types of Asian cuisine.
There are many different ways in which you can take a cooking class. If you can afford it, and like one-on-one instruction, you can find private cooking classes. Small group cooking classes are probably the most popular because they are both educational and fun. These kinds of classes are typically limited to ten to fifteen people, however, so make sure you enroll promptly if you see a class you like. Some schools even offer courses for corporate parties and team building retreats. The following classes are representative of the gamut of Asian food classes which are available:
Taking a cooking class can be a great way to learn new and tasty tricks in the kitchen and meet new and interesting people. Whether you're bored with your go-to dishes or are just starting to think about learning how to cook, there's no reason not to take a cooking class. Asian food is healthy and delicious, so it's a great cooking technique to learn more about. Sign up and be on your way to expanding your cooking vocabulary.