Bay Area Baby Equipment Rental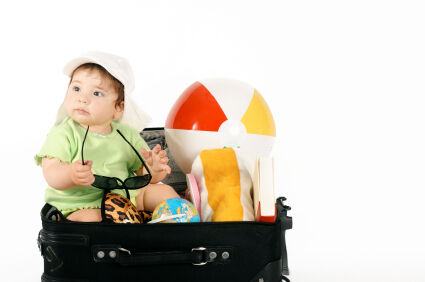 Bay Area baby equipment rental can be a lifesaver for families, who travel to the region, and don't wish to cart a bulky stroller or car seat on the train or an airplane. It's also possible to rent baby supplies for a longer period if you're moving to the area and need a few weeks to get set up.
Bay Area Baby Equipment Rental Companies
Depending on what your child needs, it may not be cost effective to rent baby items instead of buying them, if you need them for more than a month or two. However, if you are in need of a quick fix, you'll be happy to know that there are lots of rental companies to choose from in and around San Francisco, including:
Traveling Baby Company: This company offers cribs, chairs, booster seats, bottle sterilizers and warmers, strollers, car seats, bouncers, wagons, bathtubs, gates and toys for daily or weekly rentals. You can have the items delivered to the place where you're staying or to the rental car terminal in the airport. Find out more by calling 800-304-4866.
Baby's Away: If you're looking for a supply of beach equipment for your baby, then this is the rental company for you. You can borrow sun chairs and toys for baby to enjoy while he visits the Bay Area's best beaches. Cribs, strollers, high chairs, swings and exersaucers are also available. Call 800-261-4847 for the San Francisco branch and 800-986-1482 for the South Bay branch. Various rental terms are available.
Little Luggage: This company features name brand products, such as those from Century and Evenflo. You can choose your items by brand or type on the online reservation page, including a Prima Pappa highchair or a Jardine gliding rocker. There are also cribs, rockers, booster seats, strollers, car seats, camcorders, boxes of toys and even bounce houses. You can reserve items online or by calling 1-877-FLYBABY. You are also allowed to choose your own rental terms.
The San Francisco-based companies mentioned above service a large geographical area, including:
Oakland
Berkeley
Concord
San Jose
Fremont
In addition to offering delivery services outside the city proper, Bay Area baby equipment rental companies also assure customers that their equipment is clean, safe and regularly inspected.
Alternatives to Equipment Rentals
If you'd like a more cost effective option to a bay area baby equipment rental, you may want to check out area stores that sell used baby supplies, such as Once Upon a Child. At the end of your trip, you can simply return the items to the store, sell them back to the store and get a partial refund.
Another option is stop by the local library. Many libraries allow you to check out toys, which is an economical way to keep your baby entertained. Be sure to ask an employee how often the toys are cleaned and if they are inspected each time the library gets them back.
A final option is to ask the concierge at your hotel. Some hotels have their own rental cribs on hand. This option may add a few dollars to your room price, but it will likely be far less expensive than what an outside rental will cost you.