Bay Area Dog Hikes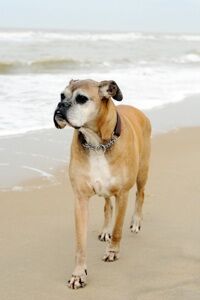 Explore free things to do in San Francisco
It's the weekend and it's time to get off your duff and take your best 4-legged buddy out for some energy-burning exercise in the outdoors and there's no better place than on one of the many San Francisco Bay Area dog hikes. The Bay Area is abundantly blessed with hiking trails all throughout the diverse landscape surrounding the City in practically any direction. Many of these hiking trails are great for taking your pooch along for a day trek or even overnight. Amazingly, you don't even have to leave the City or travel more than an hour. Practically within the span of a breath you and your Golden Labrador are out singing the song of the open road.
Perplexing is one adjective to describe the rules and regulations that restrict and allow dogs on trails and in parks. Most of the Bay Area dog hikes are in areas that share space with human hikers, bicyclists, and other animals. Consequently, some of the hikes and parks prohibit access to dogs to prevent their mixing with other people, other animals, and to minimize impact on the environment. That being said, there are plenty of dog-friendly jaunts that are under leash or voice command control where your pooch is welcome. Surprise, surprise, there are even some places that allow your dog to go off-leash.
Starting with San Francisco as the epicenter you can head north into Marin County, venture into the East Bay, or go south down the Peninsula for a variety of hikes, long and short, hard and easy, that are quick and easy getaways for an hour, the entire day, or overnight.
In the case of walking your dog the adage, "Rules are meant to be broken," does not apply. Beyond death and taxes there's a new certainty in life, dogs on leashes. Regardless if they are required or not, make sure you take one with you or risk landing up in the doghouse. Beyond that, the following are some smart provisos to follow when going on your Bay Area dog hike:
Always carry a leash
Be responsible for your pet
Check ahead for dog restrictions and if they are allowed
Don't leave your pet unattended
Bring water for yourself and Bowser
Snacks
Don't forget that dogs need shade too and shouldn't get overheated
If you get blisters then your dog may too
Bring baggies to pick up after your dog…and yourself
Avoid squirrel confrontations
Check for ticks afterwards
Some of the Best Bay Area Dog Hikes
In general there are countless hikes where dogs are welcome. Many of these hikes and parks also allow hikers, bicyclist, and horses so be prepared for unexpected encounters. Here are some great places to enjoy hiking with your dog.
Dogs are allowed to walk the bridge on leash.
This is a national park in the City's backyard. There are a lot of trails and historic sites to visit on both sides of the bridge. Most trails and sites have signs posted indicating no dogs, dogs on leash, or dogs under voice-control. Some good places to visit are Crissy Field, Fort Funston, Ocean Beach, and Baker Beach. In the Marin Headlands, Rodeo Beach and Muir Beach allow dogs on leash or voice-command. You can hike on parts of the Miwok trail and also the Coast Trail. Fort Funston is one of the most popular dog spots in the City and there are sand dunes, bluffs, hang gliders, and other dogs for distractions.
There are about 11 miles of forested trails and great vistas and terrain at the retired military post that welcomes dogs.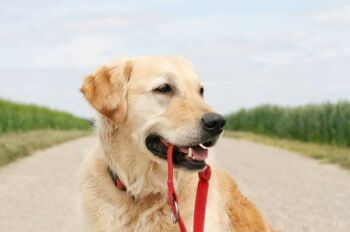 Unfortunately many of the best hikes in Marin don't allow dogs. Muir Woods, Point Reyes, and Tomales Bay are protected and prohibit pets of any kind. Don't feel offended because bicyclists are verboten as well so at least you won't get run over by an X-gamer yelling, "Kawabunga." Besides the Marin Headlands stated above, here are a few other worthy dog hikes.
Lauren Dell Loop trail in Mt. Tamalpais State Park.
Kent Lake Pump Road Trail is a lengthy hike in the remote faraway place just a few miles from Fairfax and Ross.
Dogs are permitted on a 6 foot leash and under voice-command on fire roads in many of these areas in the Marin County Open Space District. Check out Mt. Burdell.
This is a foothill preserve owned and managed by the City of Palo Alto. It's located just west of I-280 and is full of wide open spaces and trails for hikers, bikers, horses, and dogs.
This is part the Golden National Park Conservancy. This hiking region of hills and meadows is a high ridge between San Bruno and Pacifica with one slope towards the Bay and the other to the Pacific. Lots of flora and fauna are found here and only 10 miles south of San Francisco.
This is hilly and mountainous terrain with grasslands, redwoods, oak, fir, wildlife, and views of the Bay and the Pacific at the top. Try the Windy Hill Loop Trail starting from the Highway 35 (Skyline Blvd.) Spring Ridge parking lot.
This is an exhausting and challenging 8-mile hike with big view rewards of Pacific Coast wilderness. Trailhead starts at Highway 1 at Montara State Beach.
Chabot is a huge park with everything in the East Bay hills. Lots of hiking trails, try the Grass Valley Loop Trail to Bort Meadow.
Take the Franklin Ridge Loop Trail for views of the Carquinez Strait, Mt. Tam, and Mt. Diablo.
Wildcat is another East Bay Regional Park that is east of San Pablo. Take the San Pablo Loop Trail to the top of the ridge for panoramas of the Bay and San Francisco.
And above all else, enjoy the outdoors with your pooch and take a hike.