Finding the Best Dim Sum in San Francisco's Chinatown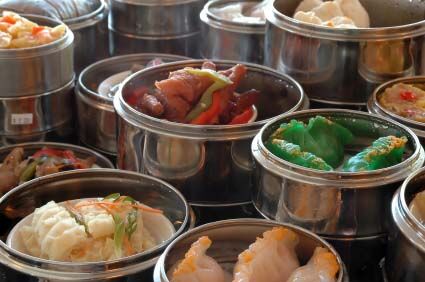 Deciding on which restaurant serves the best dim sum in San Francisco Chinatown is a near impossible task. There are so many excellent choices - each offering their own take on this delicate brunch-type offering.
The Best Dim Sum in Chinatown
San Francisco is home to many excellent Chinese restaurants, some of which specialize in dim sum. Traditional Chinatown and the extended Chinatown growing in the Clement Street area are home to some of the best dim sum in San Francisco Chinatown.
Rincon Center - 101 Spear Street (Financial District, at Mission), (415) 781-1111, validated parking every day, to go menu available weekdays 11 AM - 3 PM and weekends 10 AM - 4 PM, 2 blocks from the Embarcadero Street BART station
49 Stevenson Street (Financial District), (415) 541-4949, to go menu also available weekdays 11 AM - 3 PM, 1 block from the Montgomery Street BART station, website: Yank Sing
This third generation family restaurant features both traditional and modern dim sum. Each piece is both delicious to savor and a work of art to see. The classic pork siu mye - translucent, fluted skins holding fresh shrimp and pork - are joined on the trolleys with 80 other items including their signature Shanghai dumplings (minced pork, scallions and ginger), minced squab, Peking duck as well as many vegetarian offerings. Business people, tourists and friends enjoy the freshly-made food treasures and warm pots of fragrant tea. There is often a wait if you haven't made a reservation. The staff is excellent and informative. The Zagat Survey calls Yank Sing the "Rolls Royce of dim sum."
No time? Rather find a bench and people watch? Order from the "Yank Sing 2 go" menu and you can enjoy the exquisite food anywhere in this beautiful city. Tip on great takeout items: Order a Yank Sing Super (includes a spring roll, baked pork bun, curry chicken puff, pork siu mye, Singapore chow mein and a custard tart). If there are two ordering, also order a Seafood Supreme to share (includes a shrimp dumpling, scallop/mushroom dumpling, seafood basil dumpling, two cheese won tons and vegetable chow mein). Be sure to add a sesame ball for an additional dessert.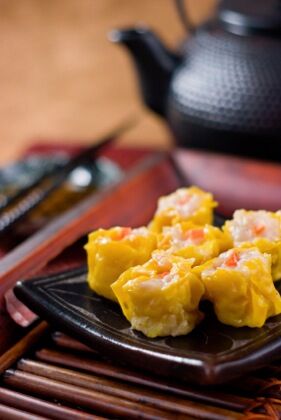 5821 Geary Boulevard (Outer Richmond District, Between 22nd and 23rd), (415) 752-4440, on the Geary Street MUNI line, website: Ton Kiang
Not as fancy or pricey as Yank Sing, but Ton Kiang has high quality dim sum, excellent ambience and very good service. Besides a vast array of dumplings, they have delicious foil-wrapped chicken, Peking duck, crispy calamari, tofu pudding and other wonderful desserts. It gets really busy. A twosome can usually get a table, but the wait time for a large group can be as long as 90 minutes. Tip: Go when they open (10 AM weekdays and 9:30 AM weekends) and you will have the pick of the tables and the best of the dim sum.
1 Pagoda Place (in Chinatown at Sacramento Street, between Grant and Stockton), (415) 982-5686Opened in 1920, they claim to be the oldest Chinese restaurant in the city. Even if they're not, the food and service is good and you feel like you are in Hong Kong as you walk down the alley to reach the front door of this dark, little 1970s-decor restaurant. The sui mai, ham su gok, barbeque pork buns, fried shrimp balls and foil-wrapped chicken are all excellent. There's not a lot of English spoken here, but the servers are very friendly and are very eager to help you select the perfect little plates of pleasure. The items are very inexpensive - two can eat a lot of food for about $20. Some say it's the best dim sum deal in town.
736 Clement Street (Inner Richmond District), (415) 386-3388, open 7 AM to 6:30 PM 1 block off Geary Street MUNI lineThis bakery offers excellent takeout dim sum. For just $9 you can have: 6 shrimp gow, 2 baked barbecue pork buns, 2 sesame donuts, 6 fried taro dumplings with pork. Don't miss the fun kor (steamed rice paper-wrapped dumplings filled with pork, water chestnuts and peanuts), the turnip cake or the egg custard tarts. There is a long line, so be sure to call ahead with your order. Come early in the day for the best selection and the freshest food, but they offer dim sum all day. The ladies behind the counter are very efficient and aren't too happy with customers who take too long to make a decision!
Canton Seafood & Dim Sum House
655 Folsom Street (at Hawthorne Street), (415) 495-3064This airy downtown restaurant serves a large menu of Cantonese seafood dishes and dim sum at bargain prices to local families and business people in the area. Don't let the dated décor scare you off. The food is excellent and the staff is very anxious to be sure that you have a good eating experience. If you come when they first open or later at night, you order your dim sum from a menu. The carts get going about 30 minutes after they open and run through early afternoon. Favorites: Shrimp-stuffed mushrooms, scallop dumplings and crystal chicken feet.