Breakfast Restaurants in San Francisco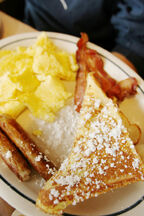 There are a dizzying array of breafast restaurants in San Francisco. Breakfast-as you've probably heard-is the most important meal of the day. Not only is it the one meal that's easiest to burn off, it's also the one that gives you the fuel you need for getting up and going. If you're in San Francisco, you'll find yourself facing a dizzying array of places to hit for pancakes, omelets, and hash browns. Here's our select guide to the best breakfast restaurants in San Francisco.
522 Jones Street (at O'Farrell Street) (415) 885-2767
Hands down the best breakfast place in all the city. This restaurant has legions of die hard fans, all of whom swear by the oversized blueberry pancakes, jalapeno-jellied cornbread, and wondrous spinach scrambles the cooks serve up. Dottie's is an incredibly tiny restaurant-there's only a handful of tables and just a few stools at the counter-if you go on the weekends anytime after 9am, be prepared to wait in line (sometimes for close to an hour!). The décor is very blue-centric and just a tad bit racy too, but very cozy and warm at the same time. The lunch menu goes up at 11:30, with breakfast served from opening till closing. Always be sure to check which specials are up on the blackboard before ordering off the menu, and note that Dottie's is closed on days most restaurants aren't-Tuesdays and Wednesdays.
1801 Market Street (at Octavia Boulevard) (415) 431-6395
Old-school breakfast establishment makes you feel as if you've stepped back into the 1950s upon opening the doors-black and white photos litter the walls, the waitresses all wear vintage-style uniforms complete with caps, and each table comes equipped with its own mini-jukebox featuring the likes of Frank Sinatra, Brenda Lee, and Tony Bennett. What most people come here for is the pancakes-they're enormous and quite fluffy, and go down great with It's Tops coffee, which is decidedly non-gourmet (think of the strong, no-frills coffee your grandparents used to drink). It's Tops is open for lunch and dinner too, and if you're sweet tooth starts humming, try one of their delicious milkshakes. This is a terrific restaurant to dine in if you're also in the mood to people watch-it affords a great view of the hustle and bustle of Market Street.
Breakfast Restaurants in San Francisco: Kate's Kitchen
471 Haight Street (at Fillmore Street) (415) 626-3984
Kate's is the only restaurant I've ever had breakfast in where I've needed a doggie bag at the end of the meal. That's how big (cartoonishly so) their portions are. If you are starving, go ahead and order the French Toast Explosion all for yourself. If you're with a friend and both of you are feeling just a bit peckish, split it. This is amazing comfort food through and through-put on your bib and get down to work on the cornmeal pancakes or blanched Flarney Garney (i.e. cheese and egg sandwich) When you walk out, expect to feel five pounds heavier. The interior of the restaurant is colorful and playful, with a comical, exaggerated map of the United States on the far left wall being the biggest visual attraction. Service is brisk and attentive-the wait staff always seems to know just when you're running low on Joe. Be aware that on weekends the line to get in can be quite long-if you've got a party of 13, prepare to wait…for a long, long time. PS-lunch is served, too.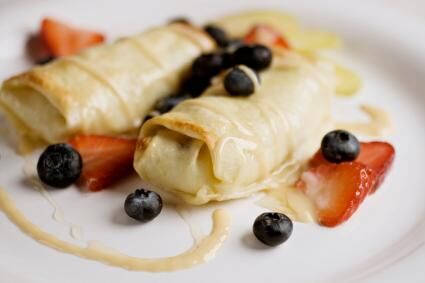 4123 14th Street (at Castro Street) (415) 285-5598Miss Millie's serves raved-about lunch and dinner fare too, but the biggest draw of this Noe Valley hotspot is the Saturday and Sunday brunch. The egg scramble, Dungeness crab hash, lemon ricotta pancakes, and homemade biscuits are to die for, and if you get there early enough on the weekend, you can eat any one of these items on the lovely back patio. Miss Millie's has the down-home country kitchen charm of a restaurant you'd expect to find in the deep south, with service that's friendly and fast. There are a lot of meat items on the brunch menu, but vegetarians will also find plenty of items to drool over, including the curried tofu scramble. No reservations are accepted, so if you don't want to stand in line for an eternity on the weekends, plan on arriving on the early side.
Breakfast Restaurants in San Francisco: Pork Store Café
1451 Haight Street (between Ashbury and Masonic Streets) (415) 864-6981
Upper Haight breakfast institution is one of the best spots in the city to watch hipsters, scraggly bohemians, and USF students nurse hangovers through grease and coffee. There's nothing hoity-toity or gourmet about the breakfasts that get slung at the Pork Store, and that's a good thing-the pancakes taste just like good pancakes are supposed to taste (fluffy but not too fluffy); the same can be said for the omelets (gooey, filling, and exploding with your choice of vegetables). Prices are very affordable too, especially when compared with some of the city's other hot breakfast spots. If you show up too late in the morning on a weekend, expect a long wait, complete with the street's many gutter punks haggling you for spare change. The Pork Store now has an additional location in the Mission District as well-3122 16th Street at Valencia Street, (415) 626-5523.
439 Powell Street (between Sutter and Post Streets) (415) 986-0700 Official Website: Sears Fine Food
Union Square restaurant has finally reopened its doors after being closed for some time for much-needed renovations-luckily, none of the breakfast recipes or menu items have been tampered with in the least. Sears serves lunch and dinner fare too, but they are best known for their "world famous" Swedish pancakes, which you get 18 of for only $7.95. Other breakfast menu highlights include the seafood omelet (stuffed with shrimp and crab) and the sourdough French toast, which is served with homemade strawberry preserves. If you're a local who hates being surrounded by tourists, stay away-Sears is always packed with visitors from both the U.S. and abroad.
Other Types of San Francisco Restaurants
Italian Restaurants San Francisco
Pizza Restaurants San Francisco
Seafood Restaurants San Francisco