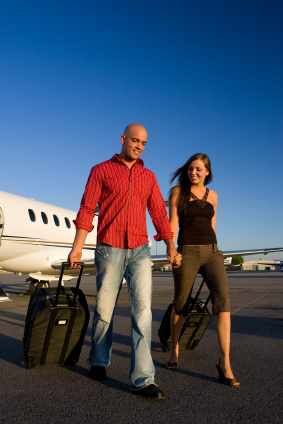 (Source: iStockPhotos Permissions: licensed)
When First Class isn't quite good enough, fly in style with ease and comfort via a charter jet to San Francisco. Without a doubt, flying commercial airlines today is fraught with hassles, discomfort, and inconvenience. It starts immediately when trying to book a flight and like a prolific fungus, the hassles just mushroom from there. Every air traveler has a horror story of sorts-canceled flights, delays, inconvenient schedules, overbookings, long security lines, lost luggage, overcrowded planes, uncomfortable seats, crying babies in the adjacent seat, and questionable digestible food. Lines? There are lines everywhere from security check-in, to the in-flight toilet, baggage claim, and to the final insult, the taxi line.
Well, one way to avoid the commercial airline distress is to fly charter. While it is still true in most cases that an arm and a leg are just a down-payment on a charter flight, the marketplace is getting more competitive and a person doesn't necessarily have to be a billionaire to climb on board.
There are several types of air charter companies that cater to corporate/executive or leisure passenger markets. These air taxis operate under the FAA's 14 CFR Part 119 and Part 135 certification with Part 135 applying to operators with nine or fewer seats. Different than scheduled commercial airlines you are renting a seat on a plane, when you charter a jet to San Francisco or other destination; in essence you are renting the whole plane. Pricing will vary from high to low depending on the type of charter service you use.
In general, the type of operator you fly with will impact the price. The following are a few common categories:
Use your own jet by becoming a fractional owner in a jet. Ownership works like a timeshare in Hawaii where you pay a fraction of the total cost of a jet, crew, operations, and maintenance for usage of the jet upfront. The amount of time available is based upon one's ownership amount. This is a commitment and is probably the most expensive route to go and like timeshares, you may never fly in the plane you own but one the club owns. Also, if you want to fly over the Christmas holidays, get in line.
Buy into a club by prepaying a set amount (i.e. $100,000) for a jet card and use it as a debit card with the amount decremented based upon air miles.
These companies work as middlemen that manage a network of independent air charter providers. You can usually find the best deals and the most flexibility working with these brokers.
These are independent air taxis offering direct, on-demand service to the executive and leisure traveler. They own and manage their own plane(s) and use their own personnel.
Got a Puccini itch to hear the stunning Patricia Racette as Madama Butterfly at the SF Opera in December 2007? The best suggestion is to get on a charter jet to San Francisco in time to join the chorus of boos and hisses as the scoundrel Pinkerton breaks Butterfly's heart. Naturally, add the cost of the opera tickets, dinner, taxis, and hotel to the evening and it will cost more than a few shares of Google. However, there are some reasons to do this:
Arrive at the last minute and forego the 2-hour pre-boarding endurance test.
Sit back and relax in first-class style.
Convenience with easy-in/easy-out to SFO airport or across the bay Oakland airport. Avoid the crowded main terminal security.
Flexible Scheduling
Time your arrival prior to the curtain and take-off right after.
Economics of Commercial vs. Charter Jet
No way to sugarcoat the price for a chartering a jet to San Francisco, it's expensive and prohibitively so for most people. Use roughly $2,000 per flight hour as a median price to estimate the cost, and that will vary depending if it is a small, medium, or heavy jet.
However, there are ways to cut down the cost before going for some spur of the moment San Francisco sightseeing. One example flight: LAX to SFO, the same day roundtrip can range from $1500 to $4000 on light or medium heavy jets. Not bad if you are traveling with 6-8 other people and share the cost, it's not much different than first-class fares on commercial flights. Of course, that doesn't include any mileage points. Do look out for other hidden costs that can get tacked on, costs such as landing fees or extra concierge services that may pull a surprise on the bill. In particular, look out for Deadheading which is an empty return leg that you do not make that you may be charged for. Some charters use this deadhead leg as a way to make their fare competitive by filling it with another return fare.
Charter Jets to San Francisco Listings
Here is a list of various types of charter services that can get you to San Francisco.
Operates out of Paso Robles, CA about halfway between San Francisco and Los Angeles. NAJC operates several Learjets flying between the two West Coast cities as well as Las Vegas.
Jet Charters is a nationwide service that contracts independent jet charters from anywhere to anywhere, including San Francisco.
The company offers worldwide charter jet services for pleasure and business passengers. They use small to heavy jets as well as helicopters and turboprop aircraft.
Offers private jets from the Los Angeles area to San Francisco and other destinations.
Private jets and charters operating out of California, New York, Paris, London, and Frankfurt.
Cut-rate middleman service provider.
A broker offering full service.