Coit Tower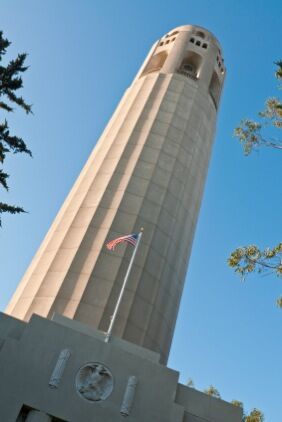 Hanging out in San Francisco?
San Franciso's Coit Tower is one of the city's most recognizable landmarks. The 210-foot high, Art Deco tower sits majestically atop Telegraph Hill in the city's North Beach neighborhood and offers sweeping views of San Francisco Bay as well as Fisherman's Wharf, Alcatraz Island, and other area attractions.
Coit tower was built in 1933 at the bequeath of wealthy San Francisco heiress, Lillie Hitchcock Coit, who left one-third of her sizeable fortune to the city of San Francisco. The structure, designed by Arthur Brown Jr. and Henry Howard, is made of unpainted reinforced concrete. Contrary to urban legend, the building was not made to resemble a fire hose in tribute to the firefighters of the 1906 earthquake, although Mrs. Coit was an ardent fan and supporter of the city's fightmen.
There is a small studio apartment on the first level of the tower, which was originally used as lodging for the structure's caretaker.
The interior of Coit Tower is covered with 19 murals, painted by 26 different WPA artists, many of whom studied under Mexican muralist, Diego Rivera. Most of the Depression-era works were done al fresco and have been restored to their original glory. The themes focus mainly on "leftist" and socialist topics, popular in the 1930s. Most of the murals are open to the public at no charge. The murals in the spiral staircase, normally closed to the public, are open on Saturdays at 11 a.m. as part of a free guided mural tour.
Coit Tower may be reached by foot, by bus, or by car. The walk is scenic, but steep. By bus, take the #39 MUNI, which leaves every half hour from Washington Square. Parking is available, but very limited at the top of the tower.
There is no admission charge to see the tower. The elevator to the viewing platform at the top of the tower is $3.75 for adults, $2.50 for seniors, and $1.50 for children from 6-12 years old. Children under 6 are free (2009 prices). The view from the top of the tower is magnificent and includes the Golden Gate Bridge, the island of Alcatraz, and the many attractions at Fisherman's Wharf. Coit Tower is open from 10 a.m. to 6 p.m. daily.
The attraction has a small gift shop adjacent to the elevator. Although Coit Tower has an elevator, the tower is not wheelchair accessible because of some steps necessary to get to the elevator.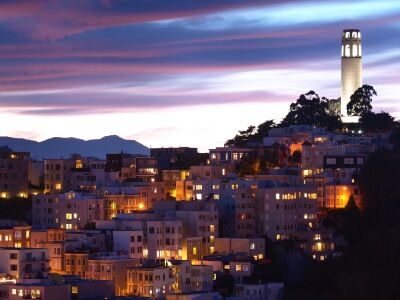 Local artists often set up in Pioneer Park at the base of the tower and many offer their works for sale. It's a good place to pick up a remembrance of your visit at a reasonable price.
Coit Tower
One Telegraph Hill (at Lombard)
San Francisco, CA 94133
415 362-0808