DeYoung Museum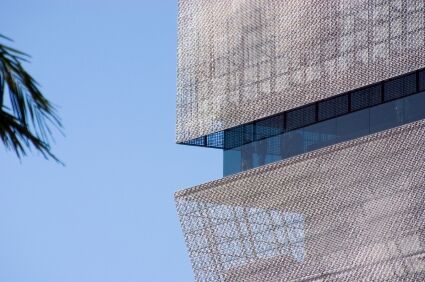 Closeup of the museum's exterior
If you're an art lover, you should include a trip to the deYoung Museum during your visit to San Francisco. This fine arts museum in Golden Gate Park houses both historic and modern collections. The first deYoung Museum was installed in 1895, though construction on its newest incarnation was completed in 2005.
deYoung Museum Collections
In addition to its rotating exhibits, the museum has 12 collections that permanently reside in its halls:
American paintings – more than 1000 paintings ranging from colonial times to modern times
American sculptures and décor – historic furniture, knives, vases, relief sculptures and more
Pueblo pottery – hand painted earthenware from Hopi, Acoma and other native southwestern settlements
Eskimo and Inuit art – tools, dishes, animal carvings and other objects dating from 300 B.C. to now
Art of the Americas– art of native peoples in North, South and Central America, including Teotihuacan wall murals and a full totem pole
New Guinea art – over 200 wooden sculptures, including both masks, statuary and other artifacts
Andean, Mayan and Mexican art – large collection of ancient sculptures collected by Lewis K. and Elizabeth M. Land
Contemporary crafts – crafts of glass, wood, metal, ceramics and fiber collected by Dorothy and George Saxe
Textiles – a variety of items, including 18th century costume, ceremonial garb and contemporary tapestry
African art – ancient and modern art the originated in sub-Saharan Africa, including tribal works
Oceanic art – works from New Zealand and nearby islands, with an emphasis on native statuary
Graphic arts from 1962 to 1999 – woodcuts, screen prints, lithography and more produced by fine art presses in the United States
Tours of the deYoung Museum
If you'd like to learn more about the permanent collections as you walk through them at your own pace, you can request an audio tour from the information desk in the front of the museum. These tours are available in both English and Spanish. You simply carry a recording with you that corresponds to certain works. If you'd rather join a docent group tour, you can join one on any day, Tuesday to Sunday. Audio tours are subject to an extra charge, but docent tours are free for guests. You are welcome to meet up with a docent group at any point of the tour without making a reservation. If you have a group of 10 or more people, you can enjoy a private docent tour if you call ahead.
Before you visit the deYoung Museum, keep in mind that the hours for the permanent collections and the exhibitions may be different. Also, the museum is closed on Thanksgiving Day, Christmas Day and New Year's Day, plus some Mondays and Fridays.
You can get discount admission if you're under 18, a college student or a senior over the age of 65. Kids younger than 12 are always free. If you plan to visit the museum numerous times in one year, you may want to buy a membership to save yourself some money and to support the museum with a tax-deductible donation. Note that special exhibit tickets cost more than general admission tickets, so if you're coming to see something that's for a limited time only, there may be an additional charge.
The museum has two cafés. The deYoung Cafe overlooks the outdoor sculpture garden, while the Legion of Honor Café overlooks Lincoln Park. Both serve soups, salads and sandwiches. The museum also has a gift shop, as well as special stores related to current exhibits.
The deYoung Museum is accessible from the 44-O'Shaughnessy bus, which stops on Tea Garden drive. You can also reach it from the N-Judah Muni Metro streetcar. If you prefer to drive, you can park in the Music Concourse Garage for an hourly charge.