Golden Gate Park History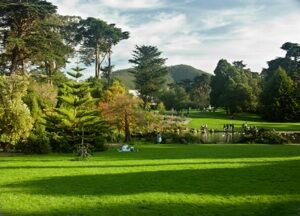 Golden Gate Park is a main attraction in San Francisco.
Golden Gate Park history is something that many travelers to San Francisco wonder about. What is the story behind the biggest of San Francisco attractions? Read on!
Early Golden Gate Park History
In the 19th century, the completion of the transcontinental railroad caused San Francisco's population to flourish. With the influx of people came a metropolitan class, one that greatly sought to improve the culture of this once-small port town. Citizens and developers began to make plans for a large outdoor space, similar to that of New York's Central Park. It would be named Golden Gate Park, after the city's famed strait that connects the San Francisco Bay to the Pacific Ocean.
Golden Gate Park is actually a man-made environment, sitting on land that once consisted mostly of sand dunes. The rolling greenery that fills the park now was originally designed by William Hammond Hall, who purposely placed curved, meandering roads throughout to prevent the speeding of horse-drawn carriages. After Hall resigned his position as field engineer, his assistant John McLaren took over the job of developing the landscape. McLaren was responsible for most of Golden Gate Park as we know it today, and lived within its boundaries until he died at 90 years old.
1870: Land is acquired.
1871: William Hammond Hall wins a surveying contract. Later that year, he would become the park's first Superintendent.
1871: Initial work on the east end of the park includes fencing, grading, and irrigation work. A nursery is developed.
1872: Trees arrive. A total of 22,000 are planted in rich soil.
Later in 1872: Ready to debut; visitors begin to arrive by the thousands.
History of Major Park Features
Many of Golden Gate Park's landmarks have their own fascinating history.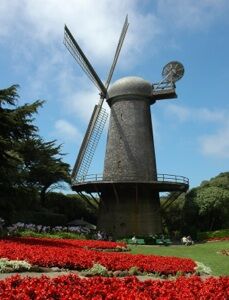 In 1903, two Dutch-style windmills were installed to move water throughout the park. This water was necessary to plant the 155,000 trees that would help change the sandy terrain to the lush wonderland it is today. One of these windmills has been fully restored, and can be seen from the west end of the park near Ocean Beach. The other windmill is currently undergoing plans for restoration.
Built in 1894, the Japanese Tea Garden attracts many visitors who are looking for a peaceful place to walk and sit. This particular garden is the oldest public Japanese tea garden in the United States and houses many paths, bridges, and Japanese structures, as well as a myriad of native Japanese plants and fish.
The Conservatory of Flowers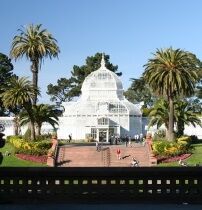 One of the oldest conservatories in the world, Golden Gate Park's Conservatory of Flowers has lived through many structural damages. The building has been forced to close several times due to fires, storms, and earthquakes. Most recently, a 1995 storm blew out 40 percent of its glass windows, forcing the conservatory staff to make extensive upgrades and repairs. It was opened again in 2003, and remains opened to this day.
San Francisco Botanical Gardens
Once known as Strybing Arboretum, Golden Gate Park's botanical garden is still a major attraction in San Francisco. Plans for the gardens were drawn up in 1893, but construction did not begin until 1926 when Helene Strybing died and left a great deal of money to the project.
The California Academy of Sciences
Originally located in what is now Chinatown, the California Academy of Science moved to Golden Gate Park in stages between 1916 to 1934. During World War II, the Academy repaired optical and navigational equipment for the US Navy, an exercise that later contributed to the one-of-a-kind star projector that would be built by Academy staff for the Morrison Planetarium. The Planetarium itself was added in 1952, being the seventh major planetarium to open in the United States.