History of Wells Fargo Bank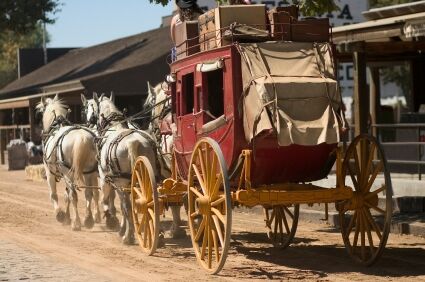 The history of Wells Fargo Bank is a long one that begins in the San Francisco Bay area. It is a story that started when California was young, way back in 1852 during the Gold Rush Era. This is the time when Americans were moving west by the thousands, following their hopes and dreams to discover gold and open territory to settle. They had dollar signs in their eyes, and needed someone to help manage all of the newfound wealth they were hoping to accumulate.
William Fargo and Henry Wells started Wells, Fargo and Company. Both founders were involved in the express delivery business, which was responsible for the early mail-trade from the east part of the country to the new western frontier. This new company's main purpose was to assist western settlers with buying and selling gold by providing proper transport for the valuable goods.
Wells, Fargo and Company started in San Francisco, a major port during the gold rush, and soon branched out to offices in other popular mining areas. Unlike other, slower, financial companies, Wells Fargo took full advantage of modern transportation to get its business where it needed to be, and fast. At the time, this included the railroad, the steamship and the stagecoach, which is where the company's logo comes from.
In fact, Wells Fargo had a major role in the development of national stagecoach lines. It took over operations and combined several local rail lines in 1866. As the railroad expanded, so did Wells Fargo, taking more to the tracks, thanks to the burgeoning steel industry. It became nationwide by the end of the 19th century, serving accountholders in 25 states across the country.
By 1910, Wells Fargo had offices in over 6,000 cities and towns. It began to offer money orders, funds transfers and travelers checks through its branches, which allowed customers a lot of flexibility in their banking. The company's numbers increased to 10,000 by 1918, and thanks to government consolidation of express lines after the start of the first World War, Wells Fargo began to focus more on banking. In 1954 it changed its name to simply Wells Fargo Bank.
Recent History of Wells Fargo Bank
In 1998 Wells Fargo merged with a smaller company called Norwest Corporation. Norwest chose to keep the Wells Fargo name because it has such a rich history attached to it. In 2008, Wells Fargo acquired the failing Wachovia Bank, a victim of the sub-prime mortgage crisis that rocked the United States in the early 21st century. As of December 2009, the Wells Fargo company is still headquartered in its original home of San Francisco, with several additional large offices in other parts of the country.
Visit the Wells Fargo Museum
You can learn more about the history of Wells Fargo Bank at the Wells Fargo Museum on Montgomery Street in San Francisco. It is one of nine such museums throughout the United States. You can see an actual stagecoach from the Wells Fargo line, real gold ore, dust and nuggets from the "rush," telegraph machines, trade documents and historic western art. It's a good way to find out more about the bank and about the nation's history in general.
Other exhibits you can see that are specific to the San Francisco location include:
Letters delivered via the Pony Express
Information on famous stagecoach robbers
How Wells Fargo played a role in the development of San Francisco
Information on women's roles in America's financial history
The museum is free and it's open weekdays from 9 to 5. You can call ahead to 415-396-2619 to schedule a guided tour or you can take advantage of a free audio tour at any time.