Japanese Restaurants San Francisco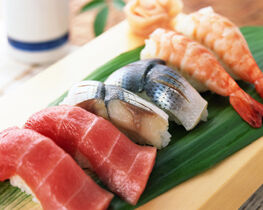 Sushi
Japanese restaurants San Francisco are a specialty of the city. Lovers of great Japanese cuisine are in good hands when they come to San Francisco. There are terrific places to eat in the Japantown area, and award-winning sushi joints scattered throughout various city neighborhoods. Break out your chop sticks and check out the following guide to select Japanese restaurants in San Francisco.
1737 Post Street (at Webster Street) (415) 563-4844 Benihana
For those who love seeing their Japanese food prepared up close and personal, Benihana is your restaurant. A chef comes to the grill at the communal table where you're sitting and cooks your meal right before your eyes! While food snobs frown upon the restaurant because it's a national chain, its proven to be an enduring favorite among the general public.
Japanese Restaurants San Francisco: Blowfish Sushi
2170 Bryant Street (at 20th Street) (415) 285-3848 Blowfish Sushi
Some of the most adventurous and creative sushi available in San Francisco is created in the kitchen of this ultra-modern restaurant. This is one of the hippest places to eat in the city, and the elaborate cocktails go down nice as well. Be warned, though-the blaring techno music can be a bit too much.
1283 9th Avenue (at Irving Street) (415) 566-1770 Ebisu Sushi
No sushi restaurant in San Francisco is as popular or well received as Ebisu. A perpetual winner in the San Francisco Chronicle's yearly survey of the 100 best restaurants in the Bay Area, the place is always packed, and it does not take reservations. Bring your patience and your appetite and you'll be rewarded with some of the most mouth-watering sushi you've ever tasted.
1290 9th Avenue (at Irving Street) (415) 753-6045 Hotei
This Inner-Sunset gem is one of the big destinations in town for lovers of Japanese noodles, in particular the udon, ramen, and soba noodles. There are also sushi and teriyaki items on the menu as well.
5121 Geary Boulevard (at 16th Avenue) (415) 752-5652
This Richmond District sushi restaurant really packs 'em in, so if you're interested in getting a table, arrive early or expect a long wait. The sushi has been winning audience and critic awards for best sushi in San Francisco since 2000. This is one of the Japanese restaurants San Francisco that's not to be missed.
2030 Lombard Street (at Fillmore Street) (415) 440-1505 Mas Sake
This Marina district restaurant serves up "freestyle sushi," plus soups, salads and a small selection of entrees. Be sure to come in on Sundays, when for a mere $20, you're challenged to eat all the sushi you can!
Osaka Japanese Restaurant
1217 Sutter Street (at Sutter Street) (415) 440-8338 Osaka
Located smack dab in Japantown, Osaka is a family style hibachi restaurant specializing in grilled items (cooked tableside), as well as sushi and sashimi. Osaka is beloved not only for their exceptional food, but also for their incredibly affordable prices.
161 Steuart Street (near Howard Street) (415) 882-1333 Ozumo
This trendy, stylish and well-received Japanese restaurant and sake lounge is perhaps best known for its sushi, but cooked items on the menu are just as highly recommended. Be sure to try to get a waterfront table for an incredible view of the bay.