Lombard Street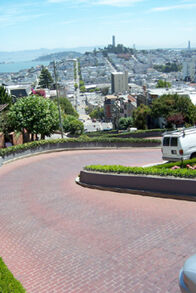 Learn about the most popular San Francisco attractions
Lombard Street is billed as the "Most Crooked Street (curvy, that is)in the United States." In fact, it is neither the most crooked in the country or even in San Francisco. It is however, very steep and very curvy, and one of the city's most popular tourist attractions. The 1/4 mile section of this major throughfare features no fewer than eight hairpin turns as it descends from Hyde Street to Leavenworth Avenue.
Lombard Street is a major east-west artery in San Francisco, and runs from the Presidio all the way to the Embarcadero, passing through Telegraph Hill, Russian Hill, and Cow Hollow. The winding block of Lombard Street, which descends Russian Hill, was designed in 1922, largely out of necessity. The 27 degree grade was too steep for more automobiles and even pedestrians found it difficult to navigate.
The winding block of Lombard Street is, today, a major tourist attraction. The charming curves are paved with red bricks and the areas between the switchbacks have been planted with colorful flowers and decorative hedges. The street is lined with townhouses and condo, with secluded walled-in gardens and wrought-iron gates. The real estate along this section of Lombard Street on Russian Hill is some of the city's most expensive.
Traffic flows one-way down the hill and the speed limit is 5 mph. There has been some talk about further restricting traffic on this section of Lombard Street, but the block is currently open 24 hours a day.
Visitors can drive down the winding section of Lombard Street from Hyde Street or view the unique block on foot by climbing or descending the step-like sidewalks on either side of the street. The Powell-Hyde Cable Car line, from Union Square or Fisherman's Wharf, stops directly at the top of the hill. In addition, a number of San Francisco sightseeing tours include a drive down Lombard Street in their tours. Lombard Street can also be viewed from above from the top of nearby Coit Tower.
The best place to photograph Lombard Street is at the foot of the hill, on Leavenworth Street, looking up. The light is usually best in the early morning or just before dusk, to avoid the glare from car windows.
More adventurous sightseers might also want to visit Portero Hill's Vermont Street, between 20th and 22nd Streets. This less scenic block has six switchbacks, but they are steeper and sharper. Thrill-seekers will want to venture two blocks from Lombard Street to Filbert Street, the true steepest of the city's inclines, and no switchbacks here.