Marin Headlands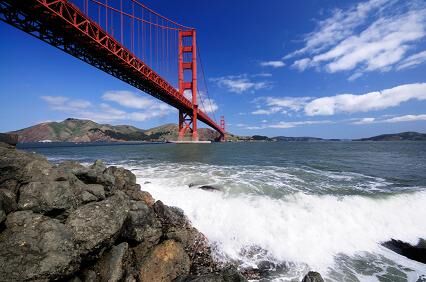 The Marin Headlands are one of the most beautiful locations to visit in the San Francisco Bay Area. Read on to discover more about this natural hideaway, famous for its gorgeous views and romantic settings.
What is the Marin Headlands?
Not known to many outside of Bay Area locals, the Marin Headlands is a hilled area found at the South end of Marin County. Just north of San Francisco, you will enter the Headlands after crossing the Golden Gate Bridge, and this notable area is actually incorporated into the Golden Gate National Recreation Area.
Many of the postcards you can purchase at various souvenir shops showcasing the majestic beauty of the Golden Gate Bridge were photographed from the Headlands, a hot spot for local photographers as well as those looking to capture special memories of a beautiful locale.
The Marin Headlands boasts an impressive climate, as it is able to generate its own cloud cover thanks to its warm Pacific Ocean air currents mixing in with the chilly bay area breezes. Its signature gusty winds and engulfing fluffs of fog give it the beautiful landscaping it has become famous for. Plenty of birds call the Headlands home, and you will also find a multitude of deer, rabbits, bobcats and coyotes in the region. Tourists can also catch glimpses of harbor seals and river otters playing in the bay.
Originally, the Headlands was home to the Native American Miwok tribe, who resided there for thousands of years. It then became host to a variety of military sites during the 19th century, and then was eventually sold to a land developer in the 1960s. Zoning agreements fell through, and the Golden Gate National Recreation Area eventually bought the land, forever preserving it for tourists and wildlife alike.
As mentioned earlier, the Marin Headlands is a favorite destination of photographers. Whether you are an expert or novice picture taker, you will find some prime photo opportunities in this impressive region.
There are also plenty of gorgeous viewing points for those who just want to take some time to gaze out at the Bay with its stunning sunsets and historical views of the bridge. A pedestrian path allows for a brisk walk or hike with a loved one, as well as multiple beaches to visit and explore.
You can also stop at the Visitor Center which holds various displays pertaining to the area's heritage. It is open daily from 9:30 a.m. to 4:30 p.m. and is free of charge. There is also a bookstore and gift shop, as well as an adequate supply of hiking maps and special event schedules.
Lastly, the Headlands are home to various nonprofits such as the Marine Mammal Center and the Headlands Center for the Arts. At the latter, you will find artist research and developing projects of interest to the Bay Area's artistic community.
Whatever your reason for visiting, the Marin Headlands have a wide variety of activities and breathtaking sights for both tourists and locals. Consider making it a part of your next San Francisco adventure!