Mexican Restaurants San Francisco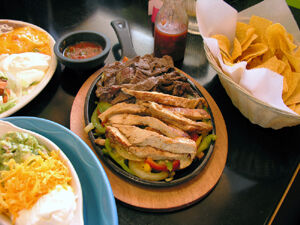 Traditional Mexican Cuisine
Mexican restaurants San Francisco are plentiful and very affordable. Mexican is one of the most popular, economic, and filling cuisines to dine on in San Francisco. You'll find full-service restaurants with everything from quesadillas to chile rellenos, to burritos and tacos joints. Check out the guide below for the best Mexican restaurants in San Francisco.
251 Rhode Island Street (at 16th Street) (415) 252-8220
This cozy little Mexican restaurant, located in the city's hilly Potrero Hill neighborhood, offers up all your south of the border favorites: burritos, quesadillas and tacos, not to mention some extremely popular (and large) salads. Be sure to try one of the juice or yogurt smoothies if you go.
Mexican Restaurants San Francisco: El Farolito
2779 Mission Street (at 24th Street) (415) 824-7877
This unassuming hole-in-the-wall taqueria may not look like much from the outside (it doesn't look like much from the inside either, come to think about it), but it offers up enormous, awe-inspiring burritos that are extremely popular with the locals. One of the best spots in the Mission to grab a bite after the bars close on the weekends.
598 Valencia Street (at 17th Street) (415) 431-3551
There's a gigantic cluster of Mexican restaurants around the Mission District's hipster bohemian 16th and Valencia Streets intersection, and El Toro is without a doubt one of the most sought after. Just about any Mexican dish you can think of ordering can be had here, but be warned: it can be hard to get a table when the lunch and dinner rushes are on.
3071 16th Street (between Mission and Valencia Streets) (415) 864-8848
A massive menu with all your Mexican favorites awaits you at this restaurant, which is a perennial Mission District favorite. A long, snaking line to stand in to place your order is a constant, but the end result is worth it. While everything on the menu is worthy of chowing down, the burritos are perhaps Villa's greatest draw.
Mexican Restaurants San Francisco: Puerto Alegre
546 Valencia Street (between 16th and 17th Streets) (415) 255-8201 Puerto Alegre
Puerto Alegre has very quickly become THE place to go for margaritas in San Francisco. Their pitchers of the sweet, strong drink draw crowds so large that you now must make reservations if you want to get in at a decent time for a meal. The food is quite tasty too!
2288 Mission Street (at 19th Street) (415) 252-9560
For those in the know, Taqueria Cancun serves THE best burrito in the city. What makes Cancun's burritos so special is that after they're prepared, they're placed on the grill for a minute or so, making the tortilla nice and crispy. Also, the guacamole is not pureed, but chunky and you'll find whole chunks of guacamole in your burrito.
5929 Geary Boulevard (at 23rd Avenue) (415) 387-4747
For those living out in the city's Richmond district, Tommy's is quite possibly the best place to go for Mexican food. The dishes are uniformly excellent, and the selection of different tequilas is dizzying. Definitely order a margarita along with your lunch or dinner.