San Francisco Bed and Breakfast Inns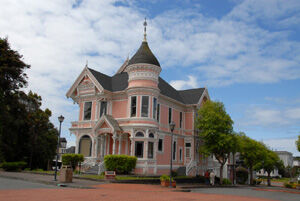 A Typical Bay Area B&B
San Francisco bed and breakfast inns are plentiful and charming. If you're looking for an intimate lodging experience in San Francisco, something a bit more personalized and cozier than a hotel, then you're in luck. San Francisco offers its visitors some terrific bed and breakfast choices in several neighborhoods. Here's our guide to six of the best San Francisco bed and breakfast inns:
Annie's Cottage Bed and Breakfast
1255 Vallejo Street (at Hyde Street) (415) 923-9990 Annie's Cottage
This lovely and highly popular B&B is located in the city's Russian Hill neighborhood, and is within walking distance to Fisherman's Wharf, Chinatown, Union Square and North Beach. There's a beautiful garden to unwind in after a long day's walking around town, and you're only a stone's throw away from a cable car stop.
San Francisco Bed and Breakfast Inns: Church Street Bed and Breakfast
325 Church Street (between 15th and 16th Streets) (415) 565-6755
If you're looking for lodging out of the center of San Francisco's downtown tourist district, you can't do much better than the Church Street Bed and Breakfast. Here you'll be close to the city's more residential neighborhoods, including the Castro, Mission and Lower Haight districts, as well as tons of great ethnic restaurants This vibrant, recently restored Edwardian is comfortable and clean, and if you want to head downtown to do touristy stuff, you're one block away from public transportation.
2119 California Street (at Laguna Street) (415) 928-3224 Circa 1870
Intimate Pacific Heights Victorian B&B is close to great shopping opportunities on nearby Fillmore Street, as well as terrific eats in nearby Japantown. Circa 1870, this B&B has lovely, comfy guest rooms, a warm and friendly common space for relaxing with a cup of coffee, and a staff that caters nicely to international travelers (employees speak French, Finnish and German).
San Francisco Bed and Breakfast Inns: Dolores Park Inn
3641 17th Street (between Dolores and Church Streets) (415) 621-0482
This off-the-beaten-path B&B is just one block away from Dolores Park, which is the perfect place to go for a picnic lunch or a spot of sun, if you're looking to take the day off from tourist attractions. Each room is unique in its décor, and you'll be close to the city's Castro neighborhood, which offers ample opportunities for fun and food.
1590 Sutter Street (at Octavia Street) (415) 441-2828 Queen Anne Hotel
This "Award winning luxury" B&B hotel is located smack dab in the ritzy Pacific Heights neighborhood of San Francisco, and offers 48 splendid guest rooms to choose from. There's a piano and gorgeous fireplace in the common area, and in addition to breakfast, there's a complimentary afternoon tea and sherry hour!
Red Victorian Bed, Breakfast and Art
1665 Haight Street (at Belvedere Street) (415) 864-1978 Red Victorian Bed, Breakfast and Art
This colorful, historically resonant and socially conscious B&B strives to "honor the 1967 summer of love" in each of its guest rooms, and offers visitors the opportunity to explore the eye-opening Haight-Ashbury neighborhood it's housed in. The Peace Café offers terrific vegetarian meals. And there's a gift shop selling "modestly priced" peace-oriented posters and gifts.
More San Francisco Hotel Options