San Francisco Consignment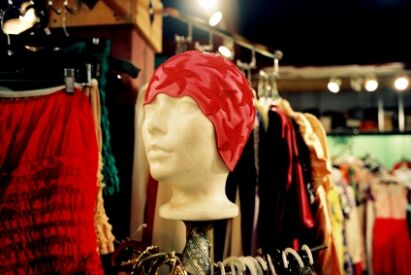 The plethora of San Francisco consignment stores offer an eclectic and varied assortment of goods. Many people think that the only places you can find high-end designer clothing in San Francisco is at one of the posh shops on or around Union Square. What fools! San Francisco's consignment clothing scene is red-hot-not only can you find duds from such top name fashion houses as Versace and Dolce and Gabanna at slashed prices, you can also sell clothing you've outgrown or tired of for either cash or store credit. Here's our guide below to some of the best San Francisco consignment clothing stores:
1501 Haight Street (at Ashbury Street) (415) 621-3141
This tiny used clothing spot has a musty smell to it, but don't let that scare you off. This is your one-stop shop for all things vintage-old Levi jeans, navy pea coats, Hawaiian shirts, letterman jackets, granny dresses, and 50's-style plaid shirts can be had in abundance. You can also find cheap shades, costume jewelry, and a massive selection of accessories like scarves, belts, belt buckles, and rock and roll pins here. Everyone who works here is very helpful, and everyone knows the merchandise quite well-unsure of where to look for what you're after? Ask a salesperson and he/she will lead you right to what you want. Be sure to check out the Mr. Magoo mannequin in the front display window.
San Francisco Consignment Stores: Buffalo Exchange
1555 Haight Street (between Clayton and Ashbury Streets) (415) 431-7733 Official Website: Buffalo Exchange
Funky, perpetually crowded boutique is the perfect place to find both rugged labels (Carhart, Levi) and tony ones (Prada, Diesel). The store is crammed with merchandise-sometimes, overly so-making it difficult to browse for what you're after. But how many times in your life are you going to complain about an overabundance of merchandise? Jeans, dresses, sweaters, shoes, sneakers, accessories-you name it, Buffalo Exchange has got it. If you are bringing in clothing to sell, try to go on a weekday-lines to sell on the weekend can be maddening. Also make sure your clothing is clean and in good shape (i.e. no holes, tears, or missing labels). This is the perfect place to shop at if you're a poor student, unemployed, penny-pinching fashionista, or just a plain old bargain hunter. There is a new Buffalo Exchange location now open at 1210 Valencia Street at 24th Street. Phone number is (415) 647-8332. The Polk Street Buffalo Exchange has sadly shuttered its doors.
Crossroads Trading Company
2123 Market Street (at Church Street) (415) 552-8740 Official Website: Crossroads Trading Company
If you're a minute-by-minute trend chaser with little dough in the bank, put Crossroads at the top of your list of shops to hit for garbs from such major league fashion names as Donna Karan, Armani, and Ferragamo. This Upper Market fashion institution just moved down a few blocks to a bigger space at Church Street, so you no longer have to rub elbows (literally) with other shoppers while browsing. There's a terrific selection of reasonably priced wares from both high end (the above mentioned) and medium to lower end names (The Gap, J. Crew, etc), and all the clothing is usually in very good shape (if you find something that looks too defective for the price being asked, talk to a salesperson and chances are, they'll lower the price for you). This is a popular destination for the many A-list gay men in the surrounding neighborhoods to sell off last season's fashions, so guys should have no problem at all finding something hip and cool to walk out with for that big Saturday night date. Crossroads now offers drop-off buying services-leave the clothes you want to sell with the buyer and return after 24 hours to pick up your store credit or cash. There are additional Crossroads locations throughout the Bay Area-check the official website above for addresses and phone numbers.
San Francisco Consignment Stores: Held Over
1543 Haight Street (between Ashbury and Clayton Streets) (415) 864-0818
Utterly massive, elaborately decorated vintage clothing store offers an incredible selection of old-school duds-if you're after some sort of a variation on the classic James Dean look, you've found the place to shop. An incredible selection of tee shirts, hoodies, bellbottom corduroys, leather jackets, knee-high boots, and mini skirts awaits you, all of which are pretty reasonably priced, considering the value in their age. Expect to find lots of rock and roll hipsters browsing the racks while nodding their heads to the beat of music from the likes of The Stooges, Bauhaus, and The White Stripes. The staff can be a bit aloof and out there, but are always friendly when you approach with a question or request.
791 Valencia Street (at 19th Street) (415) 864-5665
This small, exclusive vintage clothing shop has the unique distinction of having all its merchandise handpicked, cleaned, and ironed by its owners. And luckily for you, they have great, eclectic taste. Expect to find classic items from the likes of Izod and LaCoste mixed up with loud skirts and shirts with wild bohemian flavors. Discriminating hipsters consider Schauplatz a must when out to pick up a new velour tracksuit, pair of Chanel sunglasses, or Rat Pack-era sharkskin suit. I always think of the music of Serge Gainsbourg and the films of Wes Anderson when in this store, so if you dig the aesthetic of either, drop in with a couple of credit cards.
1660 Haight Street (at Belvedere Street) (415) 863-3150
Bright, airy vintage shop is a must-stop if you're on a stroll along Haight Street. It doesn't even matter if you're not in the mood to shop-Wasteland simultaneously operates as a museum of fashion flashbacks-I was in here with a friend once who managed to put together a near-exact replica of the outfit Robin Williams constantly wore while on "Mork and Mindy." Prices fluctuate between steep and surprisingly low-I got a vintage ski vest that appeared to be in mint condition for only $10 once. If you're planning on bringing stuff to sell, be sure it's hip and hot-don't bring the faded blue Gap sweatshirt your aunt Gladys bought you for Christmas five years ago, for you won't find any takers behind the counter. The only drawback to shopping at Wasteland is the small number of changing rooms-if you come in on a weekend and find a lot to try on, expect to wait.