San Francisco Dive Bars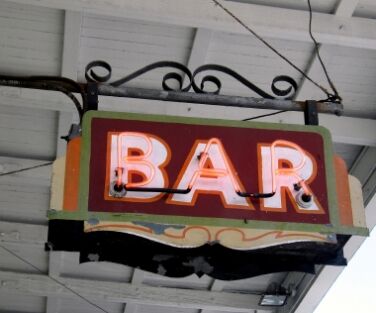 San Francisco dive bars provide a plethora of dark, wonderfully crummy spots for you to slip into when the sun is still out. If you feel like slumming for your gin and tonic, then you've come to the right place. Here's our selective guide to the best dive bars in San Francisco.
1498 Valencia Street (at 26th Street) (415) 285-4169
Kitschy, Irish corner bar used to be located in the base of the San Francisco Women's Building, but moved to this location a few years back after a very ugly fight over whether or not it should stay at a location where spent alcoholics are fighting towards recovery. Choose from 14 different beers on tap and a jukebox featuring everyone from the White Stripes to Johnny Cash. This is a very relaxed, non-scenester bar that's ideal for billiards freaks and those who don't like standing around while drinking (in addition to bar stools, there's also couches to stretch out on and tables and chairs).
San Francisco Dive Bars: the Expansion Bar
2124 Market Street (at Church Street) (415) 863-4041
The fact that the Expansion Bar seems so totally out of place is one of the many things that makes it so, so right. Located in the increasingly tony and trendy Church and Market neighborhood, The Expansion has the gruff, no-frills look and feel of the bar your grandfather used to drink in. What the bar lacks in cozy décor it makes up for with its wildly diverse, non-yuppie crowd-watch SF old timers rub elbows with thrifty rock and roll musicians and tattoo aficionados. Very little beer on tap, but the mixed drinks are S-T-R-O-N-G.
500 Guerrero Street (at 17th Street) (415) 861-2500
This legendary drinking establishment is beloved by many for many reasons, one being the giant neon blinking cocktail that stands outside for all the world to see. Even though the smoking ban went into effect in '98, the 500 still smells like cigarette smoke inside. There are liquor and beer mirrors and signs all over the walls, pinball machines and a billiard table, and the highly popular popcorn popper, which offers unlimited refills while you're sipping your drink. A very relaxed and cool Mission District rocker crowd can usually be found here…
San Francisco Dive Bars: Ha-Ra Club
875 Geary Street (at Larkin Street) (415) 673-3148
The Ha Ra Club is one of the last "Old San Francisco" drinking establishments. Don't expect any fancy drinks here as you will be asked "where do you think are, South Of Market"? Carl, the meanest bartender in San Francisco, will promptly put you in your place, he hates all humans. Jerry, is one of San Francisco's origional bartenders, and if he in the mood, will mix you one of the best Martini's on the planet. A good mix of "regulars" and "rookies". With Frank, Dino & Sammy playing on the box, you would expect to see a few "Wiseguys" in this joint.
289 8th Street (at Folsom Street) (415) 431-4695 Official Website: Hole in the Wall
Deliciously skuzzy gay biker bar has most densely decorated interior in all of San Francisco-every single spot of wall space (and ceiling space, too) is covered in punk and psychedelic posters, stickers, artwork, and flyers. There's ample bench seating, incredibly friendly and fun bartenders, and pounding, DJ-spun rock music you won't hear anywhere else. While the crowd inside can sometimes look scary (lifetime alkies and toothless speed freaks) believe me, the bark is worse than the bite. This is one of the few SOMA bars you can crawl into on a perfectly gorgeous day and forget within five minutes that the sun is out.
1811 Haight Street (at Shrader Street) (415) 752-2971
It can be tough navigating your way into this Haight-Ashbury dive bar for the sidewalk out front and entry way are usually littered with drug dealers and begging gutter punks. Fun! Inside you'll find a pool table, pinball machines, and a stunning array of freaks, including tattooed bikers, mumbling acid casualties, and regular old college students. Nothing too fancy in the way of a beer selection, so if you're looking for that hard-to-find Belgian pale ale, go elsewhere. A great spot to hit after you've emptied most of the bills from your wallet at Amoeba Music, which is right next door.
200 Capp Street (at 17th Street) (415) 861-8231
A literate, bohemian crowd populates this tucked-away, hard-to-see dive in a truly grimy section of the Mission (there's not much in the way of advertisement drawing attention to the bar from the outside). Very cozy on the inside, with a battered wooden bar, a few booths, and a comfy couch in the back. A great place to play pool, and an amazing jukebox (Tom Waits always seems to be playing whenever I'm in) to groove to. There is a nice selection of domestic and imported beer on tap, and the cocktails are quite potent.
431 Natoma Street (between 5th and 6th Streets) (415) 495-1863
Besides Zeitgeist in the Mission, this is the bar SF bike messengers call their third home. There's an enormous amount of elbowroom in the Tempest, not to mention tables and chairs, making it ideal for large groups of people. This is a "hidden" San Francisco bar that very few people know about, due to its somewhat deserted location in a less-than-desirable SOMA neighborhood (skid row lies a half-block away on 6th Street). You can get a good burger and delicious fries to go along with your brew or cocktail, and on many weekend nights you can see local punk rock bands play.
Whichever you choose, San Francisco dive bars are sure to give you a view of the city not found in any guidebook.