San Francisco Hair Salons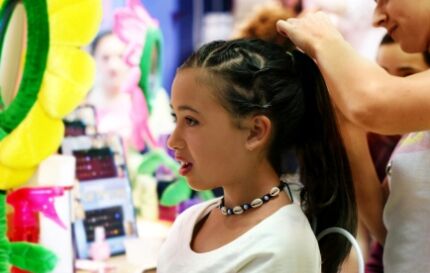 San Francisco hair salons are stylish and hip. You've come to the right town if you're in need of a good cut and color-San Francisco is crawling with popular, award-winning hair and beauty salons. Looking for something fun to do in The City? Check out the selective guide below to some of the best San Francisco hair salons in which to remake yourself.
207 Powell Street (at O'Farrell Street) (415) 362-8516 Website: Cowboys and Angels
This always-crowded and incredibly artsy hair establishment-formed by partners Skip Cathey, Tracey McAllister, and Louise Baranowski-sprung from the ashes of San Francisco's legendary Architects and Heroes salon in 1994. Their extensive list of services includes up-do's, relaxers, perms, semi and permanent hair coloring treatments, highlights, tints, and of course, pure and simple cuts. While you're getting worked on by one of the salon's top-notch stylists, sit back and take in the thrilling, always-changing lineup of local artwork decorating the walls, or zone out to the sight of financial district high rises through the floor-to-ceiling windows. Even the most seasoned stylists here go through training on current developments in the methods of cutting and sculpting hair, so rest assured you'll walk away with a do that's on the cutting edge.
San Francisco Hair Salons: Edo
601 Haight Street (at Steiner Street) (415) 861-0131 Website: Edo
Stylish and sunny Haight Ashbury}Lower Haight hair salon and art gallery really knows how to cater to its clients-while waiting for your appointment, they serve you a choice of red or white wine! Haircuts run from $15 for a face framing touch up to $75 an hour for up-do's, styles, and twists. Hair extensions, dreadlock work, and semi and permanent hair coloring services are available too, as are highlights, bleaching, and perms. The stylists here are so good that many of them are hired out for fashion shoots occurring in and around The City, as well as underground art, film, and music happenings. After you've had your hair done, shop from Edo's extensive selection of hair products from the highly regarded Bumble and Bumble.
417 South Van Ness Avenue (at 15th Street) (415) 861-GLAM Website: Glama-rama
This enormous, funky hair salon is run by legendary drag scenester Deena Davenport, who got the place up and running after getting fed up with the snotty, elitist attitude she felt permeates throughout many of the city's other salons. Thrill to the sight of the tacky, colorful bric-a-brac and outrageous wigs that line the walls while you get your cut, colored, or extended on. There's always a great vibe percolating throughout this space. Glama-rama also hosts art shows from time to time-call the salon or check their website for details on upcoming events.
San Francisco Hair Salons: Oxenrose
448 Grove Street (at Gough Street) (415) 252-9723 Website: Oxenrose
This well-respected, achingly hip hair salon moved from their previous location on Hayes and Octavia to more expansive digs a block over due to a bulging clientele list and word of mouth on their creative and individualized hair creations. For as chic and stylish as this place is, the cost of a basic haircut is quite reasonable-prices begin at $40. Oxenrose is also quite well-known for their top-notch head massages and the insider hair tips stylists share with customers, not to mention their "Fudge" dyes, which transform normal hair colors to blaring shades of red or blue.
2444 Fillmore Street (at Washington Street) (415) 440-7674
Posh very quickly became one of the hottest salons in The City to get your hair done. Under the guidance of owner and stylist Bethany Johnson-who has lured in top stylists from around the country to this Pacific Heights location-Posh specializes in thermal straightening, extensions, and of course, cutting and coloring. The stylists are so popular, talented, and in demand that many of them lend their skills out to fashion shoots and movie and television sets all while simultaneously maintaining their clientele lists. Remarkably, none of the employees are pretentious-their down-to-earth attitudes about all things beauty keep those in the know coming back every six weeks or so for touch-ups and major hair overhauls.
782 Haight Street (at Scott Street) (415) 255-8554 Website: B Parlor
This hair salon wants its customers to have a "fun, unpretentious, and exciting experience" every time they visit. In addition to hair (you can have yours colored according to any shade in the rainbow), they also specialize in makeup design and skin therapy. Their skin specialists are trained at the prestigious Derma Institute. B Parlor is known for their expertise in crafting not only modern hair styles, but also retro ones-if you're feeling like you need to get in touch with your inner-Bettie Page-book an appointment here.
245 Fillmore Street (at Haight Street) (415) 621-1671
Lower Haight hair institution is a shiny, coppery affair, with metallic paint splattered all over the walls and faux gold-trimmed mirrors to stare into as you watch your tresses fall to the floor. Zip Zap has long enjoyed a reputation as one of the premier spots in town to get a reasonably priced new do from hair professionals who have longstanding ties to the shop. Walk-ins are always welcome, and if you are truly hard up and in need of a cut, request services from one of the junior stylists-their rates are always a bit lower than those of the Zip Zap veterans.