San Francisco Hotels with Kitchenette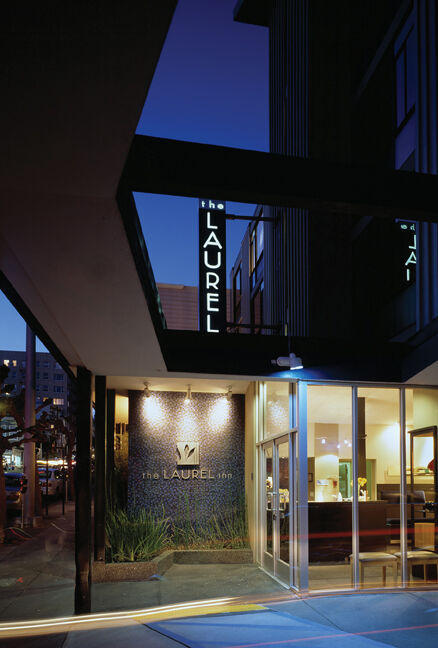 For San Francisco hotel guests who prefer to prepare their own meals (and want to stave off restaurant dining morning, noon and night) the City by the Bay has kitchen suites to suit various tastes. The quest for kitchens is a popular one, and offerings range from downtown studio digs with microwaves and more, to fully equipped long- or short-term lodging that is surprisingly affordable.
Marina District/Pacific Heights
The stylish Laurel Inn rocks a '60s apartment-like vibe, with updated standout features to delight all members of the family (four-legged furry ones are also welcome). Eating in poses no challenge for the 18 kitchenette rooms, each of which includes a mini-fridge, electric stove top, oven, toaster, microwave, silverware and pots and pans. Laurel Inn's residential location is ideal for grocery shopping, too. Stocking that kitchen is made all the easier with a nearby Trader Joe's and other walkable food markets in the area.
With just 49 modern rooms, this property boasts a chic Pacific Heights location, just minutes from the Presidio, away from the heart of the city's Lombard Street hubbub. As part of the boutique Joie de Vivre Hospitality chain, expect top amenities like in-room Blu-Ray and CD players, and thoughtful touches like afternoon cookies and lemonade in the lobby.
Location: 444 Presidio Avenue
Phone: (415) 567-8467
Website: Laurel Inn
Rates: Rooms with kitchenettes start at 269 per night. Special discounts are available for seniors age 55+ and AAA members.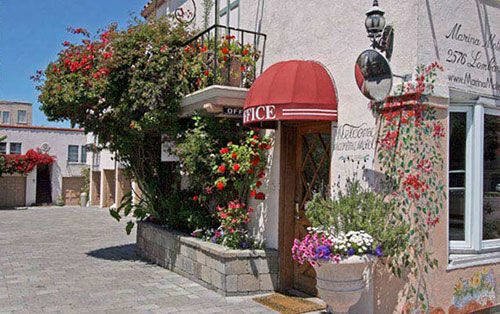 Word may be out on Marina Motel, the website for which features the tagline "San Francisco's best kept secret." Half of the 39 units feature kitchens with a gas-range oven, full-size refrigerator, microwave, coffee maker, dishes, cooking utensils, bistro dining table and chairs.
Featured in Sacramento Magazine for its dog friendliness, Marina Motel has been climbing the ranks in TripAdvisor too with nearly all 'excellent' and 'very good' reviews. Bougainvilleas fill the cobblestone courtyard of this Mediterranean-inspired property, and the quaint accommodations can be just the ticket for guests seeking cozy charm in the heart of the Marina District. The family-run motel offers unique villa-style lodging with free Wi-Fi. Each unit sits atop its own enclosed garage, giving each guest coveted free private parking for one vehicle.
Location: 2576 Lombard Street
Phone: (415) 921-3430
Website: Marina Motel
Rates: Fully equipped kitchen units start at $189 per night. Extended stays from one week to 28 days on select rooms are available during San Francisco's non-peak tourist season of November to April.
Union Square/Financial District
With a downtown address, it's tough to beat the convenience (and price!) of the graceful Beresford Arms Hotel, which offers fully equipped kitchens right in the Union Square area. Junior suites sleep five, with kitchenettes that include a microwave, mini fridge, sink, stovetop and oven. The two-bedroom 'Parlour' suites can accommodate seven guests, replete with living room and dining area. Kitchens in these suites come with a full-size refrigerator, microwave, stove, dishes, and pots and pans.
Guests can walk to Chinatown, cable cars, theaters and more, when they aren't stretching out in one of the hotel's 95 spacious rooms. Named on the National Register of Historic Places, the Victorian-era hotel features an elegant lobby reminiscent of its 1920s heyday. Today's well-appointed rooms include free Wi-Fi. Sprawling bathrooms in the suites feature whirlpool Jacuzzi bathtubs and bidets. Free breakfast daily and an afternoon tea and wine reception round out the perks.
Location: 701 Post Street
Phone: (415) 673-2600
Website: Beresford Arms Hotel
Rates: Junior studio suites with kitchenettes begin at $179 per night; Parlour suites start at $199. Special discounts are available for corporate and government guests and AAA members.
Club Quarters in San Francisco
Catering to business travelers, four-star Club Quarters prides itself on its private, club-like atmosphere where excellent service is king. This relative newbie joined the Financial District scene in 2003, offering unique more-than-a-hotel perks, appropriately located directly across from the Embarcadero Center. Rooms with kitchenettes include a microwave and a refrigerator, and 'deluxe' 300-sq. ft. studio apartments feature fully equipped kitchens.
Corporate membership is not necessary; anyone can rent a room here, subject to availability. Beyond free Wi-Fi, even the smallest rooms at Club Quarters feature a wide array of extras: in-room Keurig coffee brewers, free unlimited chilled bottled water, ambient sound machines and air purifiers top the amenity-rich list. Guest even have access to free laundry facilities and a free lounge, laden with complimentary refreshments. Sleep Better Kits (replete with eye mask, ear plugs and aromatherapy) as well as exercise equipment and yoga kits may be delivered to guest rooms upon request.
Location: 424 Clay Street
Phone: (415) 392-7400
Website: Club Quarters in San Francisco
Rates: Kitchenettes are available from $341 per night. Monthly rates are available on select rooms.
As its name may suggest, Nob Hill Motor Inn fits the bill for simple accommodations that are light on the wallet. All 31 rooms - from the smallest standard units to the six-person Deluxe Family Suites - offer an in-room microwave and small refrigerator, though you won't find cookware or stovetops here.
This two-star budget find in tony Nob Hill has classic motel stylings (two stories, all rooms face the center interior courtyard) and rates include complimentary continental breakfast, offering a good value for those seeking the basics. Guests can cash in on the three Cs - the property is clean, convenient and comfortable. Plus, Nob Hill Motor Inn can boast an elusive fringe benefit not many others can - free parking. That one big perk is quite the rarity in the city, particularly anywhere near Fisherman's Wharf. Typical area hotel self-parking rates starting at $50 a day are not unheard of.
Location: 1630 Pacific Avenue
Phone: (415) 775-8160
Website: Nob Hill Motor Inn
Rates: Rates begin at $144 per night.
The charming 94-room Mayflower offers affordable lodging in a 1920s historic building in central - and walkable - Nob Hill. The hotel packs a lot into its tiny rates: free Wi-Fi, microwave, dorm-sized fridge and continental breakfast are included in the basic kitchenette price. For those with a (small) car, there are a limited number of compact spaces for free in a parking garage, otherwise expect to pay steep rates to park larger vehicles.
Luxury it's not, but the hotel's location is near perfect and the city views garner much praise (past TripAdvisor guests have rated the Mayflower so favorably, it earns near-top ranking of all properties in San Francisco). Curiously, the establishment has no online booking engine; the hotel Web site takes reservation requests via an e-mail link and guests pay upon arrival.
Location: 975 Bush Street
Phone: (415) 775-8160
Website: Mayflower Hotel
Rates: Rates start at $120 per night.
Holiday Inn Express Fisherman's Wharf
Not to overlook the name brand chain hotels, Holiday Inn Express Fisherman's Wharf offers well-located value near the city's most popular tourist spots. The recently renovated property offers smaller rooms (considered mini-suites), each with the convenience of a mini-fridge, microwave and wet bar. Roomy full suite options provide a living area with sofa bed, kitchenette, microwave, refrigerator and a sink.
All rooms include a 42" HDTV, free Wi-Fi and complimentary Express Start Breakfast. Most impressively, guests are permitted to use the outdoor heated swimming pool, restaurants, concierge and fitness center at their sister property, the often more expensive Holiday Inn Fisherman's Wharf next door.
Location: 550 North Point Street
Phone: (415) 409-4600
Rates: Mini-suites begin at $216 per night. Special discounts are available for seniors and AAA members.
Suites at Fisherman's Wharf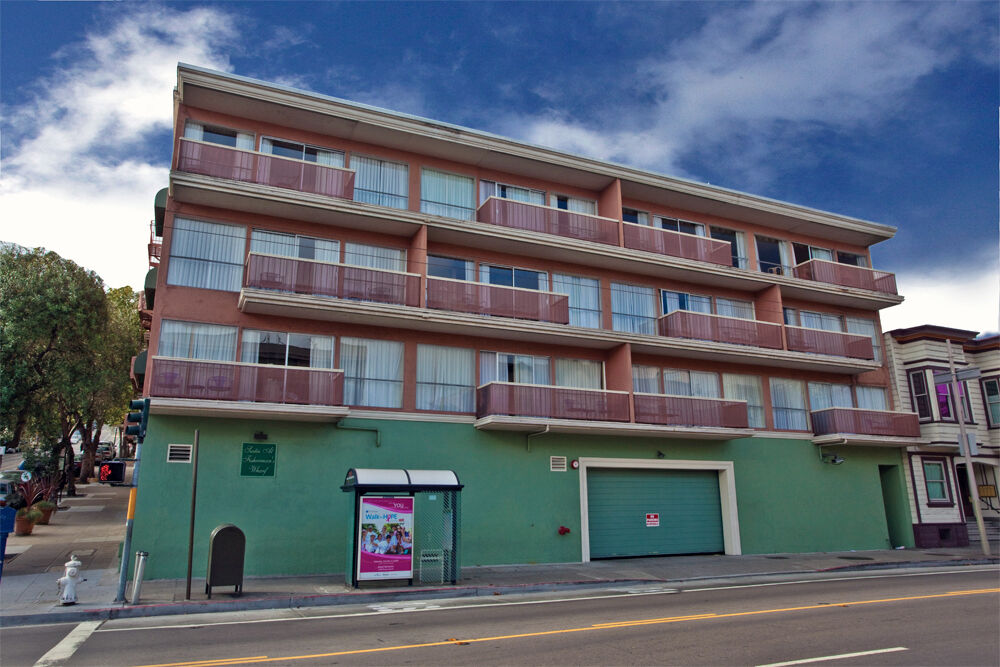 The name says it all at the Suites at Fisherman's Wharf, where guests can settle into one of the 24 spacious units outfitted with all the comforts of home. As part of the Shell Vacations Hospitality group servicing the timeshare market, the company makes it their business to know families and leisure travelers' needs best. Each suite features a fully equipped kitchen, including dishwasher, full-size fridge, microwave, coffee/tea maker, stove top, toaster and cookware.
Guests need not be a club member or owner; anyone can book available one- or two-bedroom suites directly from the property's website. Free Wi-Fi, flat screen TVs and DVD players are nice, but the panoramic view from the roof deck is also an amenity worth mentioning. The apartment-like property is just two blocks from the Wharf in the midst of all the action and right on the cable car line.
Location: 2655 Hyde Street
Phone: (415) 771-0200
Website: Suites at Fisherman's Wharf
Rates: One-bedroom suites start at $259 per night. Special discounts for AARP and AAA members are available.
If eating-in is a priority, visitors to San Francisco aren't limited to just standard hotel rooms. With a little bit of research, you'll find that spacious options with the kitchen equipment you need abound. Kitchen comforts can help travelers save time and money, whether you're visiting the city for a work trip for one or an extended family vacation.