San Francisco International Airport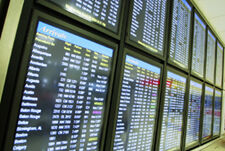 San Francisco International Airport is located about 15 miles south of the city center. It is one of three major airports that serve the San Francisco Bay Area. (Oakland and San Jose International are the other two.) San Francisco airport is easily accessible to residents and visitors from all over northern California and is served by 46 domestic and international air carriers offering flights to dozens of destinations. San Francisco is the 12th largest airport in the United States and the 25th largest in the world, in number of passengers.
Getting to and from San Francisco International Airport
Getting to San Francisco airport is easy. The facility sits right off of the Bayshore Highway and route 82. The airport also has its own BART (Bay Area Regional Transit) station, connected right to the terminal. From here, passengers can travel to the city center in about 30 minutes as well as to the suburbs of San Bruno and Millbrae.
San Francisco International has services from commercial airlines including the following:
Air Canada
Air China
Air France
Alaska Airways
American Airlines
America West Airlines
British Airways
Cathay Pacific
China Airlines
Continental Airlines
Delta Airlines
Emirates
Frontier Airlines
Hawaiian Airlines
Japan Airlines
JetBlue
Japan Airlines
Lufthansa
Mexicana
Northwest Airlines
Qantas
Singapore Airlines
Southwest Airlines
United Airlines
US Airways
Virgin America
Virgin Atlantic
The airport also offers charter jet services.
In addition to BART, San Francisco International Airport offers a full complement of ground transportation, including limousines, door-to-door shuttle vans, rental cars, and taxis. Taxi fare into the city center is approximately $35 plus tip.
San Francisco airport offers short-term, long-term, and valet parking. Short-term parking lots are connected to the terminals by AirTrain, the facility's people movers. Long-term lots are connected to the terminals by frequent bus service.
Facilities at the Airport
San Francisco airport offers a number of unique facilties for passengers. There is a computer battery charging station and Internet access center. In addition, the entire airport facility offers free WiFi service. There is a business center with fax and copy machines, private work stations (some with computers), and private conference rooms. Cellular phones are available for daily and weekly rental and the airport has a shower facility for those travelers wishing to freshen-up after a long flight. Other airport amenities include a variety of shops and restaurants, a children's play center, and a full medical clinic.
San Francisco Airport is known for its museums and art exhibits. The airport is unique in that it offers 20 galleries scattered throughout the terminals, which feature changing exhibits about art, history, culture, and science. In addition, the airport is home to an extensive aviation library and the Louis A. Turpen Aviation Museum, a permanent collection about commercial aviation.
San Francisco airport's city and bayside location keep it from expanding its runways. However, the airport continues to moderize its terminals and offers some of the best facilities of any US airport.