San Francisco Muni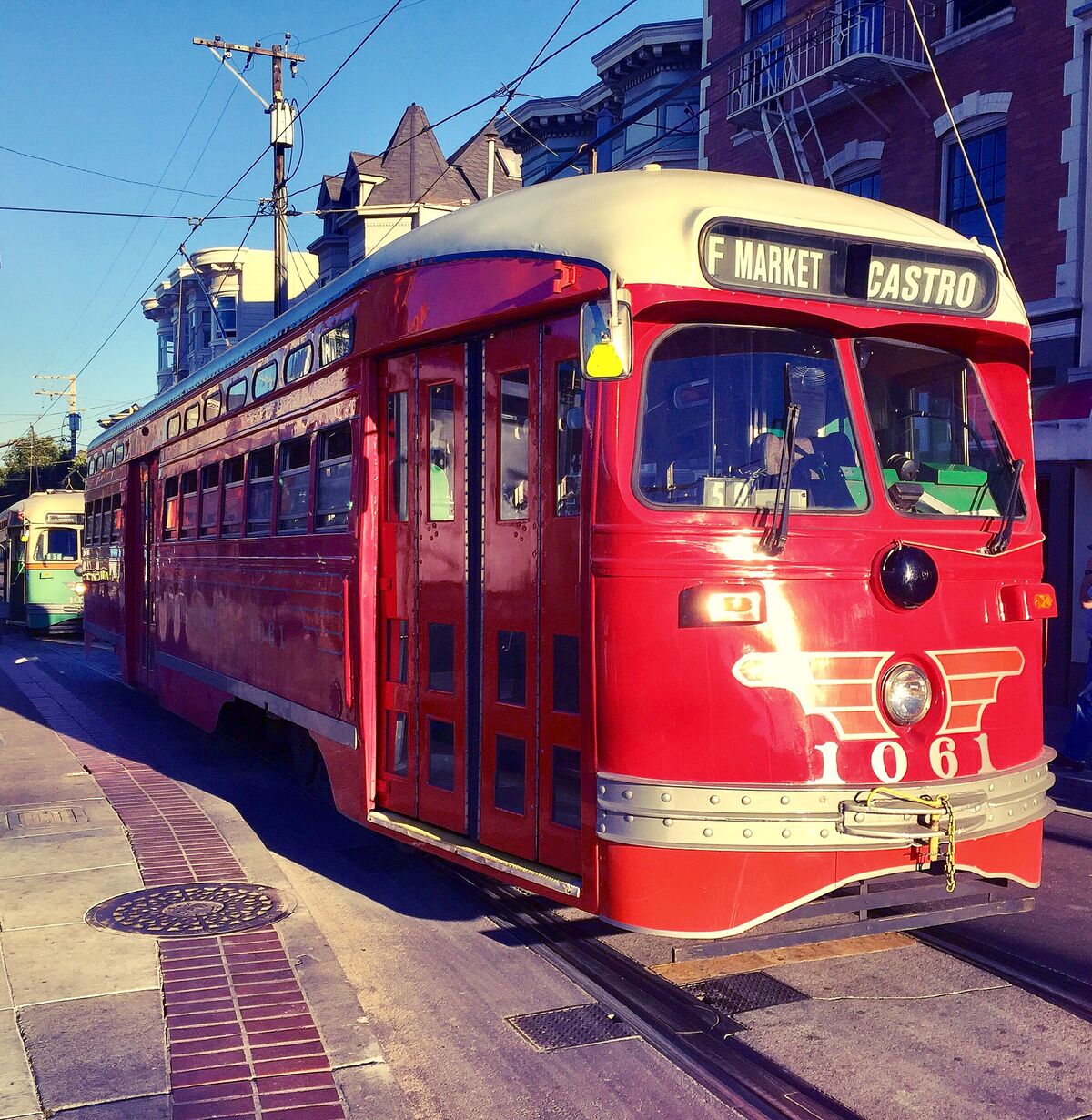 Getting around San Francisco on public transportation is affordable, practical, and offers the best solution for dealing with the notoriously steep hills. In a city that measures only seven-by-seven miles, you don't need a car. In fact, Muni is by far the best choice for popular events from parades to sports to outdoor concerts that cause road closures, detours and traffic jams.
The San Francisco Municipal Transportation Agency (SFMTA) is commonly known as Muni. It operates a citywide network of buses, historic streetcars, above and below ground light rail trains (Muni Metro), and the world-famous cable cars. Muni routes reach beyond the city and provide connections to two major airports, ferries, Caltrain, and Bay Area Rapid Transit (BART) serving the wider San Francisco Bay Area.
Muni operates 365 days a year, 24 hours a day. Between 1 a.m. and 5 a.m., night buses replace trolley, streetcar, and train services, but run only every 30 minutes.
See a network map, plan a journey, get travel times, and access passenger information about routes in real time via 511.org. When waiting for a bus, refer to the estimated arrival on digital signs at some bus stop shelters or load the NextBus app on your iPhone or Android device. Be sure to enable location services on your mobile device.
As of July 1, 2017, basic Muni single trip fares are $2.75 for adults; $1.35 for children ages 5-17 and seniors 65 and over; and free to children age 4 and under.
Request a paper transfer valid for making a free transfer to any Muni vehicle within a 90-minute period. The exception is cable cars, which cost $7 and do not honor transfers.
Clipper Cards Save Time and Money
Clipper is a regional smart card ticket that works on Muni and most Bay Area transit systems. Rather than fumble for cash, Clipper card holders who tag in when boarding a Muni vehicle receive a 25 cent discount on each trip; children and seniors get 10 cents off. Deeper discounts for Clipper on ferries and Caltrain also apply.
A $3 cash-free, re-loadable adult Clipper card can be purchased at Muni and BART stations, ferry and train terminals, as well as at Walgreens, Whole Foods and other retailers. Youth and seniors can get a free Clipper card (with I.D.) in advance or at select locations.
Fare Options for Visitors
If purchasing a ticket in cash when boarding Muni (other than cable cars), exact change is required. Clipper has a 1, 3, and 7 consecutive day Visitor Passport that's ideal for those who plan to use public transportation frequently. As a bonus, cable car rides (normally $7) are included. Current fares are $21 for one day, $32 for three days, and $42 for seven days.
For longer stays with unlimited trips, an adult monthly pass is $75 (Muni only) or $94 (Muni plus BART). Use MuniMobile, the smartphone app for iOS and Android devices, to purchase and manage your tickets for the whole family up to 90 days in advance.
Muni connects to BART for transferring to and from Oakland International Airport and San Francisco International Airport. These connections can be found at four shared downtown stations along Market Street: Embarcadero, Montgomery, Powell, and Civic Center.
Diverse Transportation Options
With buses, trains, trolleys, and streetcars, the SFMTA network is diverse. Many trips require a few minutes' walk to transfer from one type of vehicle to another. Refer to Muni system maps or visit 511.org to zoom in on your desired route and connection times.
Muni's 71 bus and trolley routes may operate at different intervals from another, with schedules varying from morning to evening, on weekends, and holidays. Numbered routes are illuminated on the front, sides, and rear of each bus, along with the first and last stops, sometimes abbreviated.
Some routes run express buses during rush hour (usually marked with an "X") and other routes have buses making restricted stops (marked with an "R"). Otherwise, buses typically stop every one or two blocks along a route when a passenger indicates a request by tugging on the cord.
Not all Muni buses look alike. There are biodiesel and energy-efficient hybrid buses, bendy buses, and electric trolley coaches running on power from overhead wires. Likewise, not all Muni bus stops look alike. Some shelters have seats underneath a red awning with a map and bus arrival information. Other stops are tricky to detect, as they're indicated only by a small sign, painted curb or post.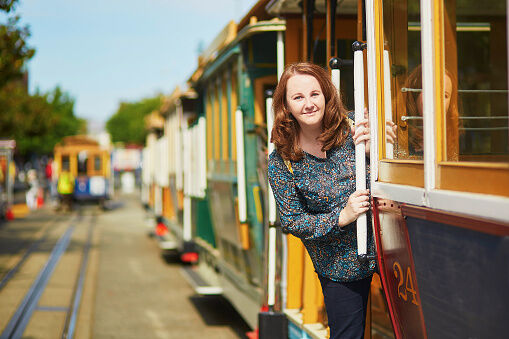 A handsome fleet of historic streetcars, restored and imported from cities all over the world, enhance the San Francisco streetscape and are fun to ride. Hop on the F-Market & Wharves line that runs between the Castro District, past the Ferry Building, to Fisherman's Wharf or travel on the E-Embarcadero streetcar line between the Caltrain Station, past AT&T Park, to Fisherman's Wharf. You can get a transfer to hop off and back on again within 90 minutes.
Three cable car lines continue to operate in San Francisco: California Street, Powell-Hyde and Powell-Mason.
At $7 per ride, they're primarily an authentic sightseeing attraction with National Historic Landmark status, rather than a viable commuter option. If you don't have a Clipper card or Visitor Pass, use exact change onboard or ask the conductor to change a $20 bill or smaller. Cable cars operate daily every 6-15 minutes from 6 a.m. to just after midnight. Board a cable car at the terminus or hail one from a designated stop along the route. Note that a full-to-capacity cable car won't stop.
Bearing names that begin with a letter of the alphabet (J, K, L, M, N, and T), six Muni Metro train routes travel both above and below ground. The terms "inbound" (toward downtown) and "outbound" are used to refer to the direction of travel throughout the route system.
Visitors can't help but notice the ongoing construction in Union Square, where a Muni Central Subway expansion is being built to connect Chinatown to other parts of the city. All Muni vehicles and most station platforms are wheelchair accessible, other than the cable cars. Underground stations have elevators to street level. Buses have a front-mounted bicycle rack to hold two bikes, but historic streetcars and cable cars cannot accommodate bicycles.