San Francisco Ophthalmologist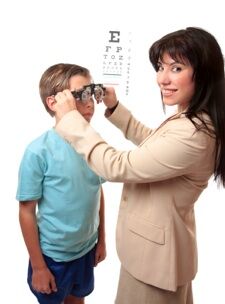 Do you need a San Francisco opthamologist?
Do you need a San Francisco ophthalmologist? Then you've come to the right place. Below you will find lots of great info on getting your eyes checked in the City by the Bay.
Ophthalmologist Options in San Francisco
There are ophthalmologists all over the City, so you're in luck no matter where you're living in San Francisco. If you don't have a car, many are easily accessible by public transportation, too! Here are a few websites that will help you on your search for the perfect doctor:
Health Grades is a great resource for finding ophthalmologists in San Francisco, and lists such details as patient opinions, board certification, education and training, and past disciplinary actions taken against them.
Online yellow pages are another great source for information on local ophthalmologists. Here are some yellow pages sites that may come in handy for your search:
Another good place to check for San Francisco ophthalmologists is the Yelp.com website. Yelp has many reviews of eyes doctors all over the city and allows patients the chance to rate their doctor and leave a detailed description of their experiences. This can be a great place to find a new doctor, and avoid ones that aren't quite your cup of tea!
Specific Ophthalmological Clinics in San Francisco
If you're just looking for a doctor recommendation, here are a few that you might want to check out. This is not an endorsement of their services, but rather a listing of their business location and specialties.
University of California, San Francisco's Department of Ophthalmology
The UCSF Department of Ophthalmology is known for being a leader in its field. They have many clinics, as well as a laser eye care center. Since this is a state-run entity, the department has many community and low-income programs available. Please visit one of their three patient care locations, or call (415) 353-2800 to make an appointment.
Beckman Vision Center (VCRU)
8 Koret Way
San Francisco, CA 94143
(415) 353-2800
Ambulatory Care Center (ACC)
400 Parnassus Avenue, 7th Floor
San Francisco, CA 94143
(415) 353-2800
Proctor Foundation
95 Kirkham Street
San Francisco, CA 94143
(415) 353-2800
Glaucoma Center of San Francisco
The Glaucoma Center of San Francisco (GCSF) is a privately held clinic that handles a series of eye conditions, such as cataracts, corrective lenses, diabetic eye symptoms, preventive care, and much more. Just two blocks from the Embarcadero BART and Muni stations, the GCSF is easily accessible by public transportation.The clinic specializes in the treatment of all types of glaucoma, including:
Primary open-angle glaucoma
Angle-closure glaucoma
Normal tension glaucoma
Congenital glaucoma
Pigmentary dispersion glaucoma
Exfoliation syndrome
With seven practicing associates, you are sure to find a doctor who fits your needs and personality.
For more general information or to make an appointment, call (415) 981-2020 or visit their patient care location:
Glaucoma Center of San Francisco
55 Stevenson Street (between Mission and Market, between 1st and 2nd)
San Francisco, CA 94105
(415) 981-2020
frontdesk@glaucomasf.com