San Francisco Theater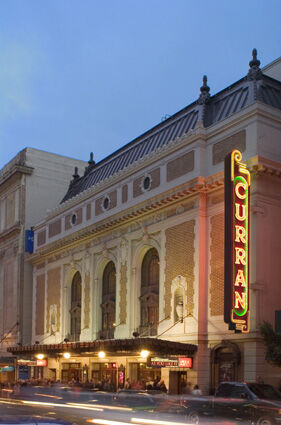 The Curran Theatre
San Francisco theater is many things, including traditional, avant garde, subtle or "in your face," but it's never boring. Theater has always been an important part of the city's culture, stretching back to the frontier and gold rush days. Today, dozens of theaters and theater companies thrive in the Bay Area.
The Cream of San Francisco's Theater District
San Francisco's fascinating theater district is located south and west of Union Square in the center of town. More than a dozen theaters compete for patrons, with first-run musicals, dramatic productions, and comedy performances. Here are some of the city's finest theatrical establishments.
Opened in 1922, the Curran is one of the most lovely and gracious theaters in downtown San Francisco. Named for its original owner, Homer Curran, it was restored in 1993 and boasts elaborate crystal chandeliers, leather seats, and original murals.
The Curran has been the site of many world, pre-Broadway premieres, such as Wicked and a revival of A Chorus Line. It is very similar to typical Broadway theaters, and scenes from the film All About Eve were shot at The Curran. Part of a trio of theaters owned by the production company SHN, its sister theaters are the Orpheum and the Golden Gate.
The Curran is located at 445 Geary Blvd., San Francisco CA 94102. You can call the box office at (888) 746-1799.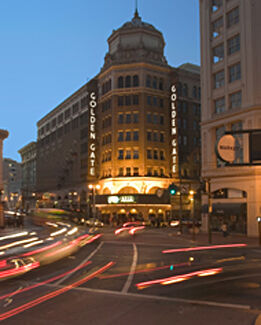 Golden Gate Theater
The glorious Golden Gate Theater opened in 1922 and hosted all the top performers, including George Burns, Frank Sinatra, the Marx Brothers, and Josephine Baker. As with many downtown theaters, the Golden Gate fell into decline in the 1960s and eventually closed. It was slated for demolition before it was saved by a grass-roots effort. The theater reopened, better than ever, in 1979.
Since the theater's renovation, it has played host to a series of first-run musicals, including Sweeney Todd with Angela Lansbury, Fiddler on the Roof with Topol, and Billy Joel's Movin' Out.
The Golden Gate Theater is located at One Taylor St., San Francisco CA 94102. Visit the box office at the theater's webpage for tickets.
The historic Fillmore Theater opened in 1912 as a dance hall. Situated in the heart of the Western Addition, the former jazz district, the theater enjoys a rich musical history. Famed local producer Bill Graham takes credit for the theater's ongoing popularity.
Over the years, the Fillmore has played host to a wide range of acts, including beat poets, as well as '60s musical greats such as Ike and Tina Turner, the Grateful Dead, Jimi Hendrix and Janis Joplin. Modern musical acts include everything from hip hop artists to folk rock acts.
The Fillmore is located at 1805 Geary Blvd., San Francisco CA 94102. You can call the box office at 800-745-3000.
San Francisco Theater Companies
American Conservatory Theater
Founded in 1965, the American Conservatory Theater (A.C.T.) has built up a following for its Tony Award-winning productions and its training programs. Based at the Geary Theater in Union Square, it is the largest theater company in the Bay Area, and it employs more than 800 people each season. Showcasing old and new works, this is an energetic company that has stood the test of time.
Visit the A.C.T. at 405 Geary Street, San Francisco, CA 94102, or call (415) 749-2228 for ticket info.
The longest running musical revue in the world, Beach Blanket Babylon is a musical spoof of popular culture that features up-beat music and extravagant costumes. It's a must-see for visitors to the Bay Area.
The company performs at Club Fugazi, located at 678 Green St., San Francisco, CA. Call 415 421-4222 for ticket info.
Located at the old Post Street Theater, SF Playhouse charges itself with bringing intimate and critically acclaimed theater to Union Square. A company for actors, writers, directors and designers to create and explore, SF Playhouse was established in 2003.
Visit SF Playhouse at 450 Post St., San Francisco, CA 94102, or call (415) 677-9596 for ticket info.
Attending San Francisco Theater
Tickets to San Francisco's finest theaters can be purchased at the individual theater box offices and websites as well as ticket brokers, such as Ticketmaster.
When available, half-price tickets are sold on the day of the performance at the TIX Bay Area booth on the Powell Street side of Union Square. Some San Francisco theaters also offer discounted tickets at their own box offices on the day of the performance.
Productions to Delight Everyone
With such a wide range of performances to choose from, including musical acts as well as serious theater, San Francisco's theaters will surely provide you with productions worth watching. From ornate theaters that boast huge productions to neighborhood venues that showcase avant garde shows, there is no shortage of entertainment in the city.