San Francisco Tourism Information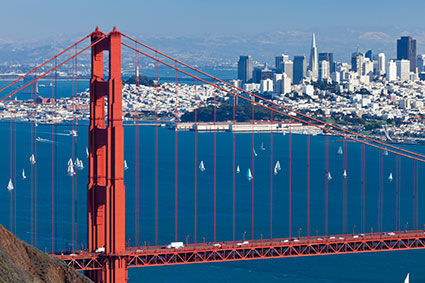 San Francisco skyline
If you're headed to the City by the Bay for the first time, you're sure to benefit from trip planning tips. The more you know before you get there - from the best things to do
to how to get around - the less stress you'll have to deal with when you arrive. This will definitely make for a better visit.
Unlike some cities in the United States - even others in the state of California - San Francisco's weather is relatively stable. Don't expect it to be sunny and warm, though. It is more likely to be foggy and a little bit chilly. Even when it's in the 90s in Oakland, which is less than 15 minutes away, San Francisco stubbornly stays in the 50s, 60s and 70s year round. If you don't like fog, stop by in the winter, when the ocean and land temperatures are closer to each other. Don't forget to bring a windbreaker, even in the summer.
Peak tourist season is from July-September, when it gets a little warmer in the city. This is when sea lions flock to Pier 39 and animal viewings are easily available across the Bay Area. Families will especially appreciate coming during this time.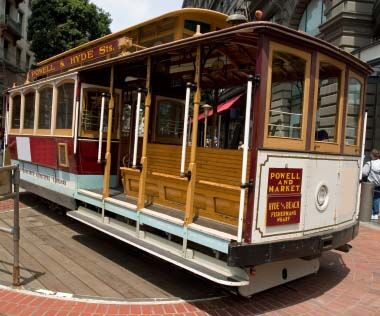 Tour San Francisco by cable car
San Francisco has an excellent public transportation system, referred to as MUNI. Purchase a Clipper Card, which will be the easiest way to get around. The MUNI covers most of the city with buses and light rail transportation options, and there are also San Francisco's famous cable cars for a more thrilling ride.
Taxis are expensive and significantly harder to flag down in San Francisco compared to other major metropolitan areas. Some good alternatives are Uber, Lyft, and Sidecar - download their respective applications onto your mobile phone and you'll be able to easily call a car.
To get from the airport into the city, you can either take a cab, an airport shuttle, or the Bay Area Rapid Transport (BART) train. San Francisco International Airport has its own BART station. You can also call the airport ground transportation hotline at 800-736-2008 if you need additional advice.
There is a plethora of places to stay in San Francisco, whether you're a luxury or budget traveler, or if you are traveling with children. Websites like Kayak and Hotwire can help you find great deals on hotel stays.
An alternative to the traditional hotel is to use Airbnb, a vacation rental service that allows local San Franciscans to rent out their apartments to travelers. You'll get the opportunity to live in a local neighborhood and experience life in the city as a local. Airbnb apartments are often much cheaper than their hotel counterparts.
If you'd like to explore on your own, consider: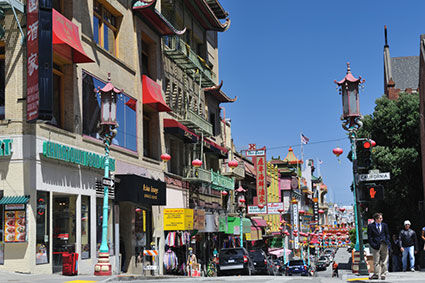 Chinatown
Child-Friendly Activities
San Francisco is a great city to visit with children. Some activities to consider:
Visiting a children's museum such as the California Academy of Science or the Bay Area Discovery Museum
Touring Aquarium by the Bay in Pier 39 to view sea life (bonus: it's right next to Pier 39's famed sea lions!)
Seeing how chocolate is made in Ghirardelli Square
If you're more of an outdoorsy person, you're in luck. San Francisco has some great hiking trails, and it's also in close proximity to many natural treasures. Examples include: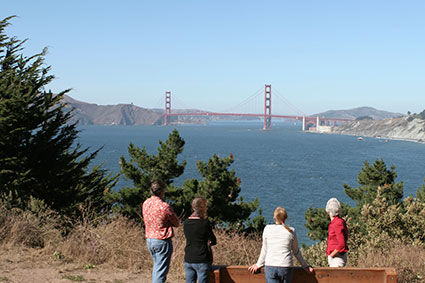 Golden Gate Bridge from Lands End
Hiking up Lands End for a great, unobstructed view of the Golden Gate Bridge
Renting a car and traveling out to:

Muir Woods, a redwood forest that contains some of the oldest redwoods in the United States, as well as great hiking trails
Mendocino County, replete with hiking trails on coastal land and some truly breathtaking views
17-Mile Drive at Pebble Beach, a scenic drive providing spectacular views of coastal areas
Although the sales tax in San Francisco is a hefty 8.75%, there is still great shopping to be found:
More San Francisco Tourism Information
To learn more, pick up one of the dozens of travel guides published regarding the city. You can find them in bookstores, at the library or online at a site like Amazon.com. After perusing the information there, head to Lonely Planet's travel forum. There you can learn extra tips from both frequent visitors and city locals. Once you've spent a couple days in the city, you can even add some pointers of your own.