San Quentin State Prison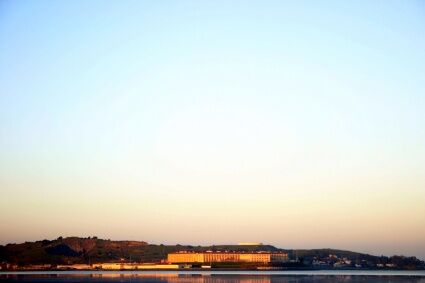 San Quentin State Prison is a famous prison located near the San Francisco Bay Area. With notable inmates from both past and present, and a sprawling facility able to hold up to 5,000 prisoners, most people have heard of this notorious prison, whether or not you've ever been in trouble with the law.
About San Quentin State Prison
San Quentin doesn't mess around. This facility, near the city of San Rafael, is the oldest prison in the state of California, but also one of the toughest. It's home to California's only gas chamber and death row, and has an estimated worth of over $100 million, thanks to its prime location on Bay Area real estate. With its own ZIP code and large population of hard criminals, San Quentin has become one of the most feared and respected incarceration facilities on the West Coast.
San Quentin State Prison opened in 1852. It was home to both male and female inmates until 1932, when it became an exclusively male facility. It got its name from its location - Point Quentin in Marin County - and the earliest San Quentin inmates slept on a prison ship at night until they completed the original prison buildings by day.
Today's San Quentin can be just as tough as in the old days, where the law was broken so frequently it caused the prison to be built in the first place. The facility also has various inmate programs for those incarcerated within its walls. This includes vocational training in dry cleaning, graphic arts, landscaping, plumbing and furniture manufacturing. You will also find an academic program, where prisoners can complete their GED or high school diploma, learn English as a second language, and participate in a literacy program. San Quentin is also notable for having the only on-site college degree program in all of California's prisons.
At San Quentin, you will also find inmates participating in community service programs and working toward family reunification through its various parenting and anger-management classes provided to them.
A large part of San Quentin's fame is due to its famous inmates who have done time at the facility:
Charles Manson - The head of the famous murdering Manson family lived at San Quentin until he received a transfer in the late 1980s.
Stanley Tookie Williams - A notorious leader of the Crips gang, he was a resident of San Quentin, and was executed there in 2005.
Wallace Fard Muhammad, the founder of the Nation of Islam
Sirhan Sirhan, who assassinated Robert F. Kennedy
Merle Haggard, the country singer
Current inmates include:
Richard Allen Davis, who became famous for kidnapping Polly Klaas
Scott Peterson, who was convicted of murdering his wife Laci Peterson
Morris Solomon Jr., who became famous for murdering a string of prostitutes in the Sacramento region
A Historical Hollywood Landmark
While San Quentin State Prison is obviously known for its dangerous criminals and tough policies, it has also enjoyed moments in the Hollywood spotlight. It has been a location of fascination to many American musicians. In 1969, Johnny Cash, who did time in Folsom State Prison, had a live concert at San Quentin. The recording from this event went on to be a top selling album. Metallica also filmed a video at the prison, during which they also entertained the inmates. The prison is also famous for hosting the first prison meeting of Alcoholics Anonymous, which has gone on to help countless inmates, and is also home to six huge murals painted as a form of artistic expression by one inmate during his incarceration.