Six Flags Discovery Kingdom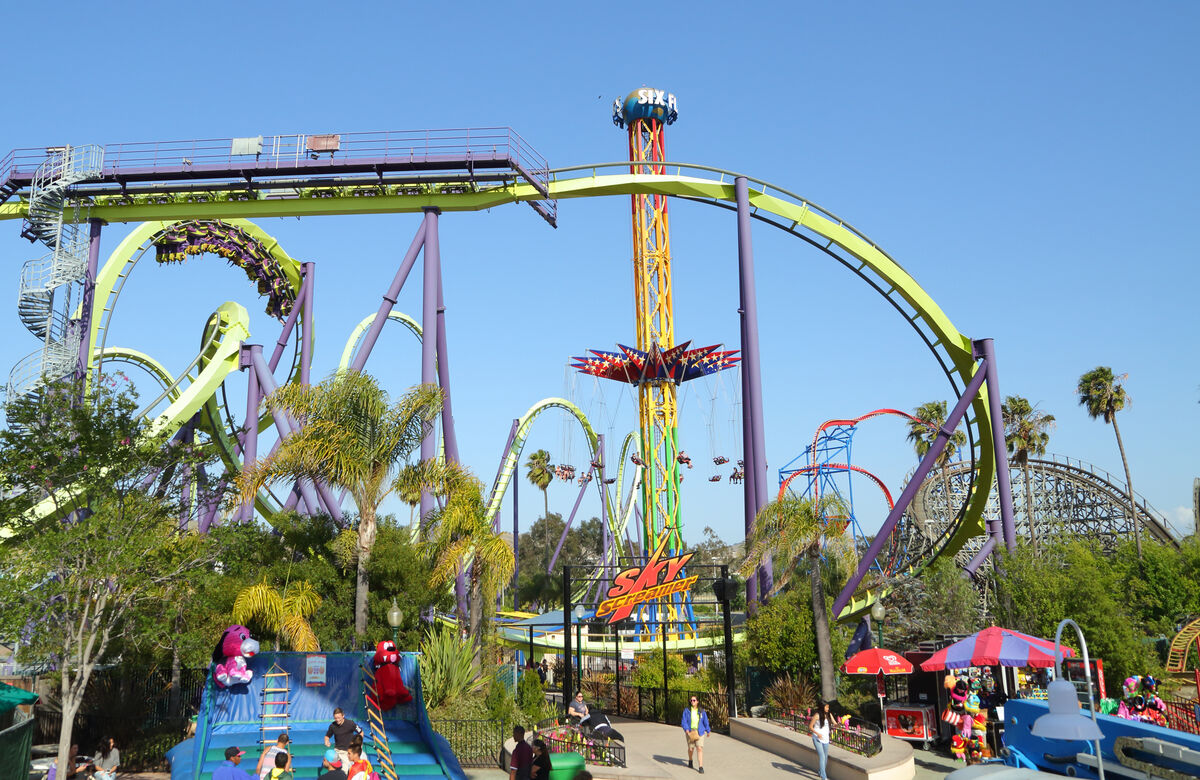 Six Flags Discovery Kingdom
If you love visiting the zoo, watching sea animals perform, and riding death-defying roller coasters, then Six Flags Discovery Kingdom in Vallejo, California is the place for you! Where else in Northern California can you find all this excitement in one amusement park for one price?
What to Do at Six Flags Discovery Kingdom
Adults and kids of all ages will enjoy Six Flags Discovery Kingdom. There are lots of thrilling rides, wonderful shows, and fantastic animal exhibits.
There are rides for all ages in the park. A few rides include the following:
V2: Vertical Velocity- Get your thrills on one of only three suspended, spiraling coasters worldwide.
Boomerang Coast to Coaster- Head one direction to the top of this towering coaster, then boomerang through it again backwards!
Kong- Your heart will be in your throat as your feet dangle and you reach speeds up to 55mph on this terrifying ride!
Voodoo - Go for a whirl on this tiki-themed gondola that spins while it goes into a 360 loop.
Sky Screamer - Dangle from a startlingly tall 150-foot tower in a 43 mph spin.
Dare Devil Chaos Coaster - Opened in 2015, this coaster features a 70-foot tall looped track that puts riders face to face, propelling them backwards and forwards (pendulum style) until the force takes them into a long suspended hang time, followed by six to seven full inversion cycles. The Joker
The Joker: Opening Spring 2016, this incredible coaster will feature 3,200 feet of purple and green track, a Zero G barrel roll, three inversions, and 15 extreme airtime moments - with speeds up to 53 mph.
Don't forget to visit the zoo section of the park. Here you can see elegant giraffes, majestic lions, and gorgeous Siberian and Bengal tigers. A walk through the butterfly garden will show you hundreds of varieties of butterflies in a natural habitat. Be sure to stop by the Kingdom Stage, where you can pose for a photo with an exotic bird.
For even more exposure to the park's animals, pop for the separate admission Wildlife Discovery tour. It starts at 3 p.m. and lasts around 90 minutes. Attendees will get to meet and touch some of the park's most exotic creatures while learning how the animals are cared for. Note: this program is limited to only 12 guests per day.
There are animal shows featuring dolphins, a killer whale, sea lions, and more. You can also watch trick water skiers do death defying stunts in the park's lagoon. Shows will vary depending on the time of year.
Odin's Temple of Tiger Odin's Temple of Tiger -Do cats really like water? Meet Siberian and Bengal tigers at the Odin's Temple of Tiger show to find out!
Sea Lion Stadium - All-new show at Sea Lion Stadium starring California sea lions, Pacific harbor seals and special guest stars.
Toyota Stadium - Drench! - View the power and agility of our bottlenose dolphins in a sensational showcase.
Walrus Demonstration Show - Don't let their size fool you! Walruses are intelligent, graceful in the water and impossibly engaging!
Six Flags Discovery Kingdom's operating hours will vary depending upon the time of year you visit. Generally, the park opens on the weekends only in the spring and all week long coming closer to summer. For the exact hours on the date you wish to visit, check out the park's website.
If you buy your tickets at the park, you'll pay around $66 for adults and $46 for kids over two years old who are less than 48" tall. Kids under two are free. You can save $25 per person by purchasing your tickets online. Season passes and dining passes are also available for purchase on the park's website.
Six Flags sometimes offers discount tickets at participating grocery stores, such as Albertson's or through services like AAA.
Located about halfway between Sacramento and San Francisco in the town of Vallejo, Six Flags Discovery Kingdom is easy to find and easy to get to. If you are traveling north on US 101, simply look for the Highway 37 exit and follow the signs the short distance into the park. If you are driving in from Sacramento, look for Highway 37 signs off the 80 Freeway.
It's also possible to get to the park using the Vallejo BartLink service, or travel on Amtrak's Thruway Shuttle or SolTrans from the Vallejo Transit building. You can get more information by calling the following numbers.
Amtrak: 1-800-USA-RAIL
BartLink: 707-648-4666
Greyhound Vallejo Transit: 707-643-7661
There is so much to see and do at Six Flags Discovery Kingdom. What are you waiting for? Plan your visit today!