Alcatraz Island
One of the main attractions in San Francisco, a tour of Alcatraz Prison starts with a quick boat to the prior home of the worst federal criminals. A walking tour shows you the cells, explains the day-to-day routine and tells the story of the unsuccessful escapes.
Chinatown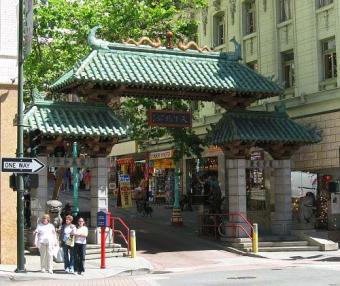 Enjoy the sites, sounds, smells and fun of this Asian community, the largest Chinatown outside of Asia.
Coit Tower
This 210-foot high Art Deco tower houses murals painted by students of Mexican muralist Diego Rivera.
Fisherman's Wharf
This historic waterfront is the home to several excellent seafood restaurants and many fun, often crazy, attractions for kids of all ages.
Ghirardelli Square
This retail shopping area is built from the original Ghirardelli Chocolate factory. Don't miss the chocolate processing display when you go for your ice cream or chocolate treats!
Haight Ashbury
Center of the hippie movement and counter-culture of the 1960s. It is now a neighborhood of restored Victorian homes, interesting bookstores and restaurants.
Golden Gate Bridge
Connecting San Francisco with Marin County, this is THE symbol of San Francisco and one of the main attractions in San Francisco. Built in the 1930s, this bridge is enjoyed by walkers, cyclists and by 100,000+ cars daily.
Golden Gate Park
This 1000 acre park includes the Japanese Tea Garden, the California Academy of Sciences, the de Young Museum and many other specialty gardens and attractions.
Lombard Street
Known as the most crooked street in the United States – with eight hairpin turns as it descends from Hyde Street to Leavenworth Avenue.
Pier 39
A fun-filled shopping, restaurant and attraction area that is also the starting point of many of the Bay cruise and tour companies.
Aquarium of the Bay
Walk through tunnels under San Francisco Bay and see the Bay ecosystems up close. This state of the art facility is an adventure for all ages.