Sunday Brunch at the San Francisco Ferry Building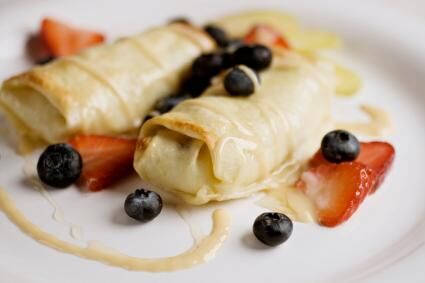 Sunday brunch at the San Francisco Ferry Building can be a wonderful way to enjoy some weekend relaxation with those you love.
Exploring the Ferry Building Marketplace
Sunday brunch at the San Francisco Ferry Building is an easy feat, as the entire complex is designed to appeal to your stomach and senses. Fully committed to promoting the artisan food community within the Bay Area, the Ferry Building Marketplace is an upscale Farmers' Market with local produce suppliers, independently-owned restaurants, and customers that don't want to dine amongst the ordinary.
According to their official website, the Ferry Building has five primary goals:
Showcase small regional food producers that practice traditional farming
Promote the Bay Area's ever-growing ethnic diversity
Provide a central hub to experience world-class food and wine from all over Northern California
Build regional ties with other businesses and the transit authority to revitalize the San Francisco waterfront.
Serve as a community gathering place to celebrate both cuisine and culture
With those points stated, it is obvious that Sunday brunch at the San Francisco Ferry Building is a fun and unique experience that both tourists and locals will enjoy. Even better, there are plenty of eateries to choose from. Below are a few favorites.
The Marketplace is only one of two physical locations where you can experience Steve Sullivan's amazing varieties of fresh-baked breads and pastries on a Sunday morning. All of his items contain only organic flour, and he works closely with farmers to choose the perfect grains throughout the year. The result is a delectable assortment of breads and other baked goods that make for a perfect brunch.
This store-restaurant combination is celebrated for its unique ingredients that will enhance your pantry and inspire your culinary side, even if you never knew you had one! Boulettes serves a table service Sunday brunch from 10 a.m. to 2:30 p.m., and the menu changes seasonally, so making several visits will never be a repeat experience.
This full service restaurant features a Mediterranean menu made with the fresh ingredients sold at the Marketplace. Supporting its neighboring farmers, the Marketbar puts on an impressive brunch each Sunday starting at 9 a.m. Dishes include seasonal fruit with yogurt, smoked salmon bruschetta, buttermilk pancakes with pecan sausage, and a seafood platter to die for. Check their official website for a seasonal menu if you want your exact choices ahead of time.
While all the above choices are ideal for a classy date or relaxing morning with friends, Taylor's reigns supreme when it comes to filling little ones' tummies and getting families in and out with a great Sunday afternoon experience. This restaurant is designed like a roadside truck stop, but the food is made with high quality local ingredients. From fish tacos to pulled pork sandwiches, there are plenty of adventurous options for mom and dad, while the kids can enjoy an extensive menu of burgers, sandwiches, and milkshakes. They offer outdoor seating on the Embarcadero, a perfect view on a clear summer day, and you can even get your brunch options to go if you prefer to stay in bed just a bit longer.
Sunday brunch at the San Francisco Ferry Building can take you beyond a more typical breakfast or lunch experience. They are experts at hosting special events, such as a morning spread for your guests following a Saturday evening wedding. The rustic architecture and picturesque bay views make the Ferry Building's Marketplace a perfect location for your next formal gathering. All food is catered by Paula LeDuc Fine Catering, and the menu options are far from ordinary.
Consider the Ferry Building for your next big event, or even just for a Sunday morning stroll. Wherever you choose to go, you are sure to not be disappointed.