Surfing in San Fran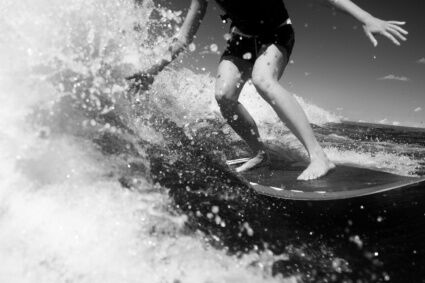 Surfing is one of the many free things to do in San Francisco
Surfing in San Fran can be a great addition to an already planned visit to this city by the bay, or a wonderful pastime to take up if you are a resident here.
Surfers Ride High in Northern California
When people think of surfing in California, chances are they visualize gorgeous coastlines and killer waves - in Southern California. While it's true So Cal is known for its large surfing population, Nor Cal has quite a few things to offer as well. In fact, So Cal surfing has been so infiltrated by the international surf circuit, plastered with promotions and dominated by elitist competition that many who surf for pleasure are turning to the Nor Cal coastlines for a more rewarding time out on the water.
When it comes to this alternative surfing experience, San Francisco is a great city to try. While this region is obviously famous for other things, from computer geniuses to one of the largest gay pride parades in existence, surfing in San Fran is becoming more and more popular as the wave riding community discovers all it has to offer.
The Pros of Surfing in San Fran
San Francisco is dense yet small, meaning that no matter how far you go into the city, you are still never more than a short drive away from the ocean. In fact, public transportation can take you to impressive shores in no time, and even an ambitious bike ride will quickly get you to an aquatic destination. Nature wraps around the cityscape, taking away the crowded, polluted feel found in many metropolitan areas. The Bay varies in form year round, giving surfers one of their ultimate challenges, while also providing safe havens for novices just starting out. City surfers are abundant, and often those overworked Silicon Valley employees can be seen riding the waves after hours.
If you are new to surfing in San Fran, read on for important information you should know before taking to the waters.
Unique Challenges and Features of the San Francisco Bay
Since San Francisco is a windy Northern California city, it is vital a surfer realizes it is very different from Southern California. The water is colder, more dangerous and is notorious for being unpredictable. For this reason, it is important to always go out with a buddy, unless you are highly skilled in navigating the ocean.
Sea life gets a bit more threatening up north as well, especially since San Francisco is close to what has become known as The Red Triangle. This section of water near Point Reyes has become notorious for its shark attacks on surfers, quite possibly due to the area's large seal population. Whatever the reason, you'll want to be on high alert for sharks, and always check online for the attack frequency and great white spotting in the vicinity of where you plan to surf.
Lastly, summer time is ironically not the best time to get in the water when you are visiting San Francisco. Surfing in San Francisco is actually best in the fall, since summer is often overwhelmed with looming fog and flat waves. Check out the shores in September or October. If you want more of a challenge, come in the winter where the waves are supremely unpredictable and can go from flat to over fifteen feet in the course of a single day.
Fort Point is a notable spot to try in San Francisco. It has been called one of the most unusual places on the planet to surf, mainly for its unpredictability with incredible views. Lined by the Golden Gate Bridge, some surfers are easily spooked by how they are dwarfed by the large architecture and hills surrounding the area, however it is also known for its reasonable waves and engulfed coves. Fort Point is one of the most popular surf spots in the city, so prepare yourself for crowds during the peak season.
South Ocean Beach is another great surf spot, especially for those at the intermediate level and beyond. A huge 3-mile long shore, it is growing in popularity and is crowded on some days, but overall a surfer can go and be captivated by the largely unpredictable waves and challenging turns. It may break your board, but riding the waves of South Ocean Beach is a great experience for any surfer looking for something a bit out of the ordinary.
You can find more great surfing locations in San Francisco by visiting a surf site such as Surfline.com. Get out of the house, grab your board and don't forget your wetsuit! The cold and expressive waters of San Francisco are just waiting to be conquered by new adventurers.