Thai Restaurants San Francisco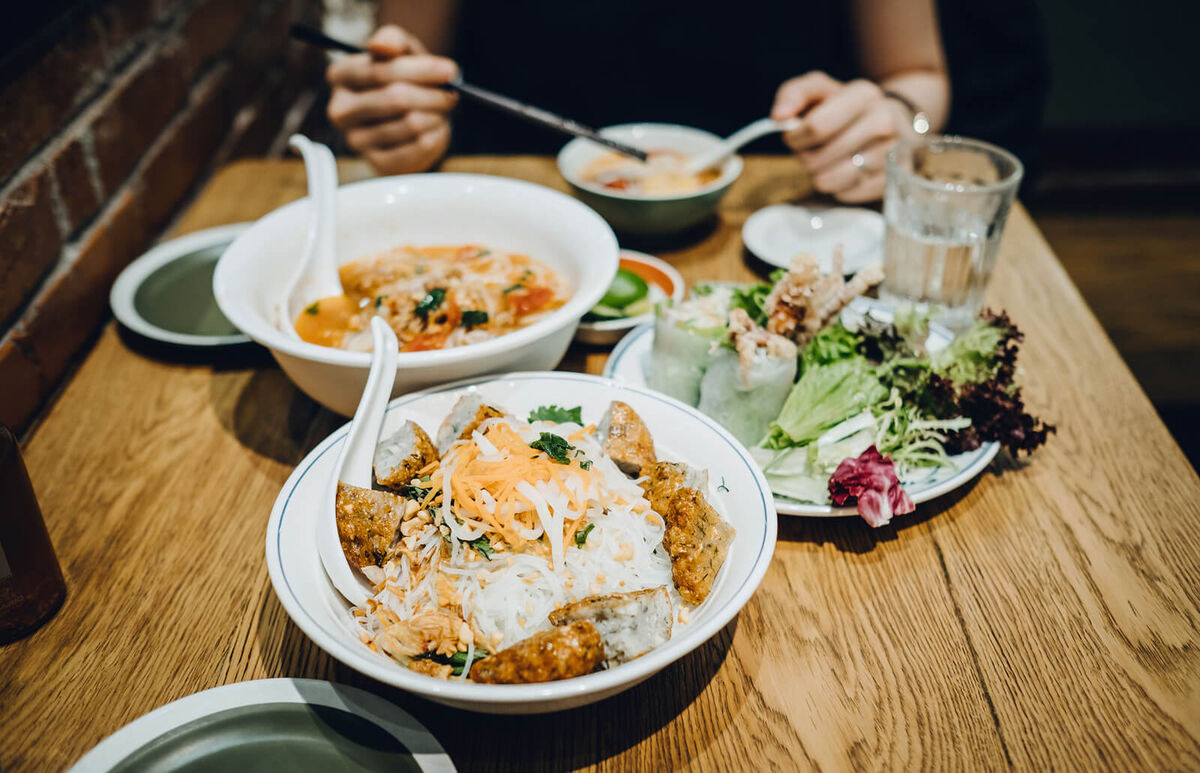 Thai restaurants San Francisco are one of the hightlights of the city. San Francisco is a Thai food lover's paradise. There are so many good places to eat Thai that you could practically throw a stone and hit a Thai restaurant. Check out the guide below for eight of the best restaurants to feast on Thai food.
1175 Folsom Street (at 8th Street) (415) 552-8999 Basil Thai
This sleek, modern South of Market restaurant is not only one of the best restaurants in the area, it's also one of the only restaurants in the area! Terrific Thai food, served up with modern, interesting gourmet-esque twists. A great place to grab a bite to eat on the weekends before going out to drink and dance in the neighborhood's many nightclubs.
Thai Restaurants San Francisco: Jitlada Thai
1826 Buchanan Street (at Sutter Street) (415) 292-9027 Jitlada Thai
This award-winning Pacific Heights Thai restaurant is one of San Francisco Chronicle's food critic Michael Bauer's favorite Thai places. Expect unusual but always tasty twists on Thai favorites. Jitlada is frequently listed in magazine and web site round-ups of the bay area's best Thai restaurants.
1600 Folsom Street (at 12th Street) (415) 861-6224
Highly popular South of Market restaurant has been known to please difficult and finicky people critical of the food they eat in Thai restaurants. It gets crowded on the weekends, but you'll be happy you waited to get seated.
Thai Restaurants San Francisco: Osha Thai
819 Valencia Street (at 19th Street) (415) 826-7738 Osha Thai
This ultra-modern restaurant popped up on Valencia pretty recently, and has been packing them in ever since. It's one of the best Thai restaurants San Francisco. The specialty of the day is noodles, although the rice dishes are nothing to frown upon. Highly popular with the yuppies and hipsters who live nearby. Check out the restaurant's original location at 696 Geary Boulevard, to.
598 2nd Street (415) 536-3266 Ozone Thai
This lounge-like Thai restaurant offers a contemorary atmosphere, and the adventurous food deserves to be taken seriously. There's a terrific selection of entrees, noodle dishes, soups and salads, so bring your appetite.
2415 Clement Street (at 25th Avenue) (415) 379-9726 Patpong Thai
There's an extraordinary amount of Asian restaurants to eat at on Clement Street, and Patpong is without a doubt one of the best Thai ones. The cuisine is classic Thai, and just about everything on the menu is a safe bet. Be sure to check out the chef's specials if you visit.
2200 Market Street (at 15th Street) (415) 864-5006
This massive restaurant located in the city's vibrant Castro neighborhood is one of the best Thai places to hit if you've got a big party of people to seat. The entrees are quite good. The soups and salads even better.
400 Waller Street (at Fillmore Street) (415) 431-2526 Thep Phanom
Perhaps no Thai restaurant in San Francisco has posted as many critics' notices and award certificates in its front windows than Thep Phenom. Try to get in early for dinner, for once it moves past 7 p. m., the place gets packed.