Things To Do In Sausalito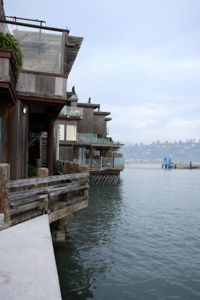 Sausalito's architecture is part of its charm.
Perfect for a day trip, there are plenty of things to do in Sausalito -- a suburb of San Francisco that maintains the bohemian, artistic vibe it first established in the 1950s. Quiet and quaint, Sausalito is but a short ferry or car ride away.
Located just across the Golden Gate Bridge on the north side, Sausalito is a small town often compared to a Mediterranean seaside village. It offers floating homes, art galleries, restaurants, and numerous shops to explore. For anyone visiting San Francisco, a trip out to Sausalito should definitely be on the checklist. A ferry ride can get you there in 30 minutes.
Fun Things to Do in Sausalito
Once in Sausalito, you'll find it very different from San Francisco. Its laid-back ambience is palpable and infectious. Sausalito is the kind of town you pass through, but would like to stay for longer. The key then is to make the most of your time. As you'll find, there are many things to do to fill that window.
Its bucolic setting is just one of its many charms. Its main thoroughfare Bridgeway is another. Tourists usually begin their day here, exploring the fashion, art, and ice cream. Notable stops include:
Arlecchina: Upscale garments, French-style
Cha Cha Cha: A children's store
Ciao Bella Italy: Imported Italian ceramics
Dis & Dat: Fashionable women's boutique
Games People Play: Toy store dating back to 1976
Gene Hiller: Upscale clothier for men
Green Apples: Women's clothing, baby gifts, home decor
Flying Oliver Books: Quality used books
Jewelry by the Bay: Unique and designer jewelry
Lappert's Ice Cream & Yogurt: Gourmet ice cream
Out of Hand: Hand-crafted gifts
Petris: Art glass gallery
Sottovento: Nautical store for enthusiasts
Venice Gourmet: Mediterranean-style marketplace
Cool Places to Visit in Sausalito
To avoid the crowds, save the shopping for later and visit one of these other Sausalito attractions. This little waterfront town is absolutely brimming with local culture, and there's a lot to see beyond the quant storefronts.
Bay Model Visitor Center - An education center featuring a 1.5-acre scale-model of the San Francisco Bay-Delta System. A sight to see, the model provides insight into the geography, topography, and ecology of the region. It represents the area from the Pacific Ocean to Sacramento (Stockton). Open Tuesday-Friday 9 a.m. to 4 p.m.; Saturday-Sunday 10 a.m. to 5 p.m.
Sausalito Wooden Boat Tour - This company offers nautical history tours and treasure hunts. Its wooden boat tour lasts 1 1/2 hours, during which time you'll learn about the area's houseboats, floating art studios, and WWII shipyards. The three-hour walking tour (12:30-3:30 Saturday/Sunday) explores the northern and southern regions of Sausalito.
Sea Trek - Explore the area by kayak. Sea Trek offers several kayaking tours of Sausalito and its watery surroundings, including the eclectic houseboats, the beach, and marine life. No experience is necessary. Kids are welcomed.
Bay Area Discovery Museum - An indoor-outdoor children's museum located at the foot of the Golden Gate Bridge. The Sausalito campus is 7.5 acres. Open Tuesday-Friday 9 a.m. to 4 p.m.; Saturday-Sunday 10 a.m.-5 p.m.
A Few More Ideas - There's also the restored Nike missile launch site SF-88L; whale watching; the Marine Mammal Center; and Sausalito's stunning views of San Francisco and the Bay.
Sausalito also hosts a number of events throughout the year that prove fun for locals and visitors alike. An example? The evening concerts of Jazz & Blues by the Bay. Two more: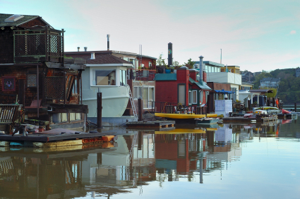 Contributing to Sausalito's uniqueness are the floating homes of Kappas & Waldo Point Harbor. These homes, which appear to float on water, are part of a tradition dating back to the 1800s, of "free-spirited artists, shipbuilders, and writers." Each year, these floating residences open up to the public for one day only. In 2009, approximately 20 homes will participate in the Floating Homes Tour, scheduled for September 26, from 11 a.m. to 4 p.m. Tickets go fast, so plan ahead.
The Sausalito Art Festival
In the 1940s, shipbuilding dominated Sausalito's industry. In the following decade, it became art, and the town has not let go since. To punctuate its artistic roots, Sausalito hosts an outdoor art festival internationally known as "The Granddaddy." Held over Labor Day Weekend, the festival attracts over 50,000 fans each year and typically showcases more than 20,000 works over the four days. The inaugural festival was held in 1952.
To get to Sausalito, ferries are a scenic, relaxing way. Visitors have two choices: The Golden Gate Ferry, which departs from the Ferry Building Terminal, and the Blue & Gold Fleet, which sets off from Fisherman's Wharf.
As for when to go: if you can make one of Sausalito's major events, like its art festival, then you can't avoid the weekend. However, if you're just going for a day trip, then midweek is best. Beat the crowds and enjoy all the fun things to do in Sausalito at your own leisure.