Vegetarian Restaurants in San Francisco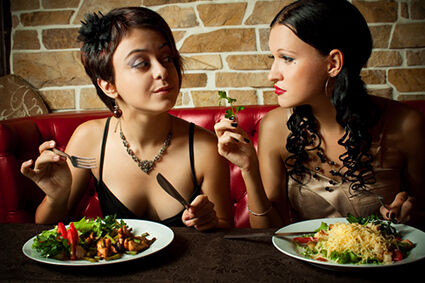 The many vegetarian restaurants in San Francisco represent some of the best options in the country, if not the world. Non-meat eaters will find plenty of delectable choices here, including the following wonderful restaurants specializing in vegetarian fare.
Eight Awesome San Francisco Vegetarian Restaurants
2 Marina Blvd., Fort Mason, Building A (415) 771-6222 | Official Website: Greens Restaurant
This is a tony vegetarian restaurant offering spectacular views of the San Francisco Bay to its diners as well as a menu featuring only the freshest herbs and produce from local growers and organic farms. Greens Restaurant is one of the best-known vegetarian restaurants in America; it has been open since 1979 and enjoyed immediate success right from the beginning. Reservations are a must as are non-casual duds. If you go with a group of friends or your family, make sure someone orders the yellow squash risotto, one of the many dishes at Greens that loyal customers swear by.
580 Geary Street (at Jones Street) (415) 345-3900 | Official Website: Millennium
Millennium is not only one of the most popular restaurants in San Francisco for non-meat eaters, it's also massively popular with those who live and die by meat. The eatery has also been included in San Francisco Chronicle food critic Michael Bauer's yearly list of the 100 best restaurants in the city. Set your tongue to drool over such entrées as pecan-crusted portabello mushroom, black sesame seed noodle pho, and blue Hubbard squash risotto. Always be sure to make reservations way ahead of time if any of the above dishes sound like something you want to grub on. Millennium also has an impressive wine list and dessert menu as well as a reputation for long amounts of time elapsing between courses. Prices for an entree hover around $20.
Westfield San Francisco Centre -- 845 Market St, Ste 12 | Official Website: Loving Hut
Loving Hut is a chain of vegetarian restaurants across the country with three locations in San Francisco alone. They offer salads, sandwiches, noodles, and an assortment of vegetarian dishes that can be paired with steamed white or brown rice. Although this location is part of a mall food court, they have a pretty decent selection of options and provide extremely affordable vegetarian food. Prices start at around eight dollars for a salad and cap at under nine dollars.
3242 Scott St (at Chestnut St) (415) 447-8400 | Official website: Udupi Palace
This Indian restaurant offers South Indian vegetarian cuisine and has another location in the Mission. They are famous for their dosas, a crepe made from rice batter and black lentils, especially their masala dosa. Their vegetable curries and samosas are also extremely popular. Everything on the menu is under $11 and their dosas start around eight dollars. Zagat has even listed them as one of the best cheap eats in the Mission!
710 Polk St (at Willow St) (415) 440-8344 | Official website: Thai Idea Vegetarian
Although this is a vegetarian Thai food place, it does not lack for tastiness. Popular dishes are their curries; SF Weekly likes their massaman curry in particular. They offer a wide range of typical Thai food, all made without fish sauce, which is a common ingredient used by their non-vegetarian counterparts. Nothing on the menu costs over $12, making this incredibly affordable.
839 Kearny St (at Washington St) (415) 956-7868 | Official website: Enjoy Vegetarian
Enjoy Vegetarian has three locations in the city where they offer Buddhist vegetarian cuisine to hordes of hungry customers. Their menu is mostly vegan, which means that it contains no meat or fish, dairy or eggs. Their food also does not contain MSG or onions and garlic. Despite that, their food is still extremely tasty, and their fake meat has received acclaim from SF Weekly, especially their fragrant crispy chicken and spareribs. Their food is meant to be shared, family-style, and dishes start at around $10.
Shangri-La Vegetarian Restaurant
Affordable, Healthy, and Delicious
Although one might think that eating healthy means paying a lot of money for very little food, that is absolutely not the case in San Francisco. In this city, you'll find an incredibly wide variety of cuisines and restaurants available to the vegetarian diner. Perhaps even non-meat eaters will find something to appreciate in this list!