Weekly Rentals in San Francisco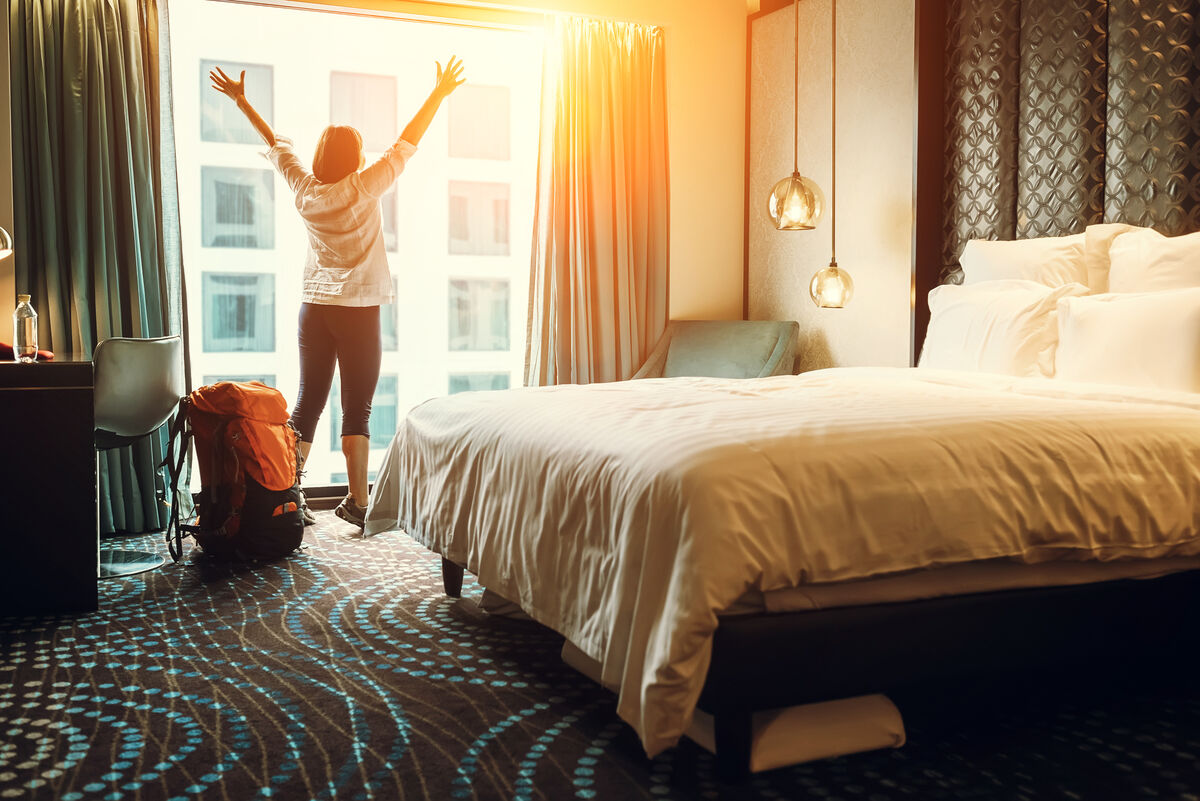 If you're visiting San Francisco for a week or longer, there are numerous accommodation options for an extended stay. Within the city's compact 49 square miles, you'll find everything from luxury hotels and guest houses to bed-and-breakfasts and budget hostels, and even entire homes available to rent while owners are away.
As the global leader in private home rental, Airbnb's polished presentation and wide inventory shows shared rooms, private rooms, and entire house searches. The 540,000 listings in San Francisco are searchable via a number of filters, including experiences. Read guest reviews for repeat listings, see a tag to identify new listings, and make contact with a host if you wish. All hosts must have a verified profile and photo. Airbnb adds a service fee, an occupancy tax, and a security deposit, and the owner typically requires a cleaning fee.
In one listing, a private room with bath in the owner's home has access to common spaces including a peaceful rear garden, deck, living room with fireplace. In Lone Mountain near the University of San Francisco and Haight-Ashbury, the price is $105 per night with a 10 percent discount for weekly stays.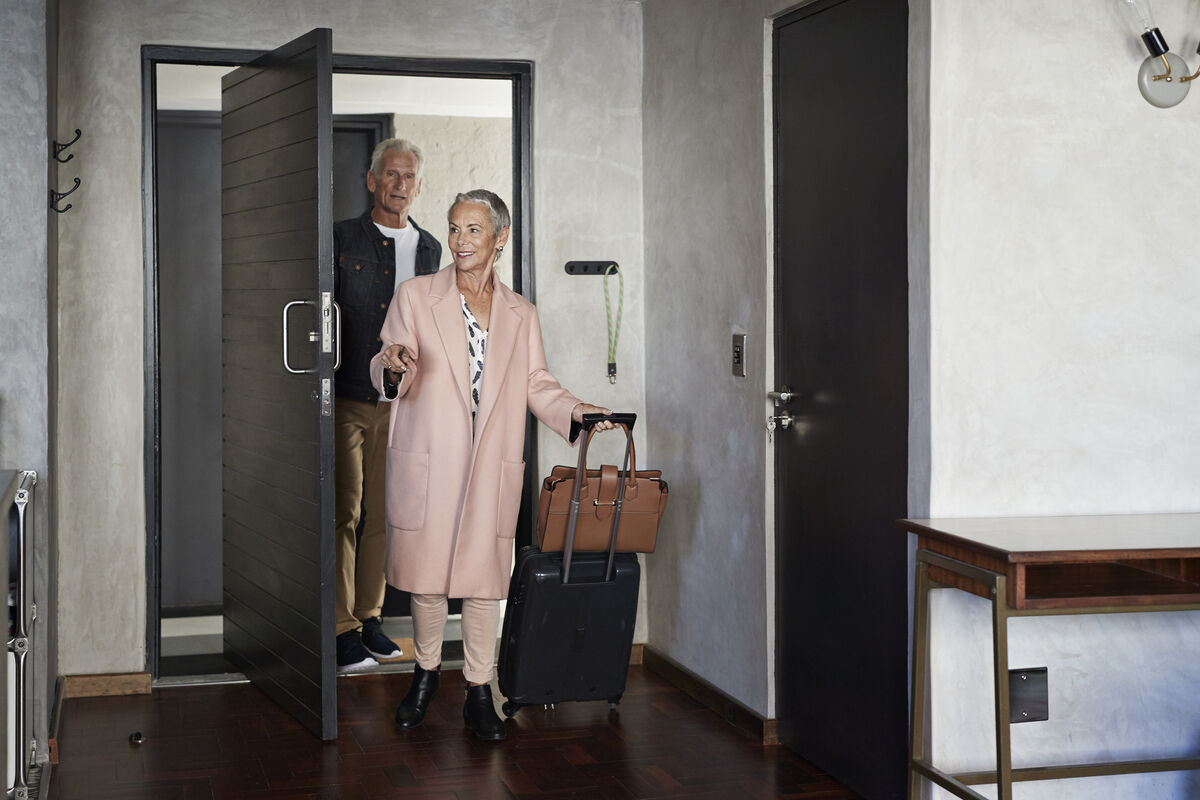 A search for weekly rentals produced 300-plus San Francisco HomeAway properties, including Wyndham condos at The Canterbury, which are time share units with unused dates. While browsing photos, host profiles, ratings, and guest reviews, you can zero in on properties tagged as popular or see those with the highest star rating. In a hurry? Book now with the instant confirmation tool.
Seen on the site is a contemporary three bed, two bath, 2,000-square-foot family house in residential West Portal, featuring a deck with ocean views and a media room. It runs $396 per night, plus cleaning, tax, and a service fee. A refundable $500 damage deposit is required.
VRBO stands for Vacation Rentals by Owner, part of the HomeAway family. You'll find a list of neighborhoods or points of interest to help focus on location or nearby attractions. The owner presents an overview of each property with search options arranged by size, amenities, reviews, map, photos, dates, rates, and availability. Child-friendly and pet-friendly properties can be filtered too.
Facing the Pacific Ocean, a spacious four bedroom home with backyard and deck in the Outer Richmond district offers a minimum two-night stay at $655 per night for up to eight guests.
The Flipkey vacation rental marketplace is a TripAdvisor affiliate. A recent search for weekly rentals found over 200 properties in the city, with many more suggestions within a 20-mile radius. You can search by properties covered by the TripAdvisor Payment Protection policy, or sort listings by dates, price, amenities, number of bedrooms, pet-friendly, child-friendly, and other features. See owner descriptions and photos, read online reviews, and consult a map showing nearby attractions. Use the platform to contact the owner with any questions prior to booking.
An example property priced at $248 per night is a furnished one bedroom apartment of 800 square feet on the ground floor of a three-story home with direct access to a garden. There's free on-street parking in the historic Potrero Hill District.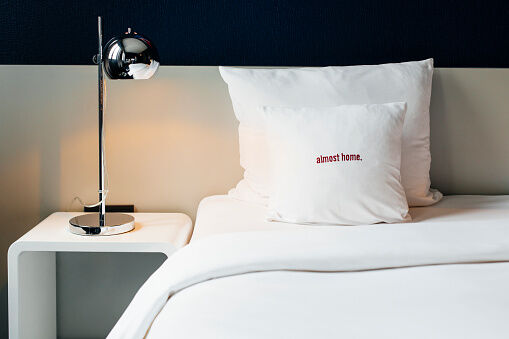 This classified advertisement website requires direct communication between buyer and seller, so it's a "buyer beware" arrangement. Profiles and photos are not always provided, and the layout isn't standardized, meaning that weekly accommodation listings can be hard to find. A recent search found weekly rentals listed in the "sublets & temporary" sub-category and others in the "vacation rentals" sub-category. Refine results by indicating "weekly" in the search box, although month-to-month options will also appear. The mix of accommodation types includes owner's own residences, managed apartments, purpose-built short stay properties, and co-living/co-working spaces.
In one Craigslist ad, a furnished one bedroom apartment (no photos), with weekly rental at $600, features a private roof deck and Jacuzzi, plus street parking. It's located at the Bernal Heights/Glen Park border within walking distance to a BART rapid transit station.
Sleep Over Sauce is a guest house consisting of eight bedrooms, each with a private bathroom and flat screen TV. Complete with a business center and a comfortable common room with a large fireplace, it's available to rent by the room or as a whole house. The accommodation is upstairs from Sauce, an award-winning, family-owned restaurant and bar. Sauce is in Hayes Valley, two blocks from the Civic Center BART station, City Hall, and the performing arts area that's home to jazz, opera, ballet, and symphony.
A queen-bedded room with detached private bathroom starts at $140 per night including free Wi-Fi and housekeeping. A king with bath and shower starts at $160 nightly.
Quaint Victorian townhouses and even a converted mansion or two operate as B&Bs in central locations such as Pacific Heights, Noe Valley, the Castro, and the Mission. These independent lodging places may appeal if you're a fan of antiques, afternoon tea with homemade cookies, and perhaps a house cat as well. Popular B&Bs are found within TripAdvisor and also on a dedicated bed-and-breakfast website.
The house cat presides at Golden Gate Hotel, a townhouse in a handy location near several Union Square car rental offices. Guests like the pet-friendly policy, chintz decorated guest rooms, fluffy croissants at breakfast, and brewed afternoon tea with cookies in the parlor. A double with shared bath runs $150 per night for a week's stay; a queen (for two adults and one child under 10) with private bathroom is $225 per night.
Co-Working and Co-Living Spaces
The concept, as described on Coliving, is a community one. Members share housing and chores with other entrepreneurs, developers, artists, makers, and creatives interested in networking and collaboration.
For a three-night minimum stay in a twin-bedded room in a shared house, rates are $40 per night per person including Wi-Fi, weekly cleaning, laundry, and kitchen. A 15 percent discount is applied for month-to-month stays.
According to Hostelworld, there are 19 hostels in San Francisco rated by users on its website or at USAHostels. Three of the locations are operated by Hostelling International, with 24-hour reception and a handy graph to highlight amenities such as free parking, bicycle storage, and $1 breakfast. Some hostels are located in popular spots like Fisherman's Wharf, Union Square, and around prime city center. Most have free Wi-Fi, and some also have free breakfast and other meals plus a kitchen. Simply insert your dates to search for weekly availability.
At Green Tortoise Hostel in the North Beach/Telegraph Hill neighborhood, a week's stay in a standard double room includes breakfast every day, plus three vegetarian dinners, for $685. Dorm-style rooms are less expensive.
Tips for Staying in San Francisco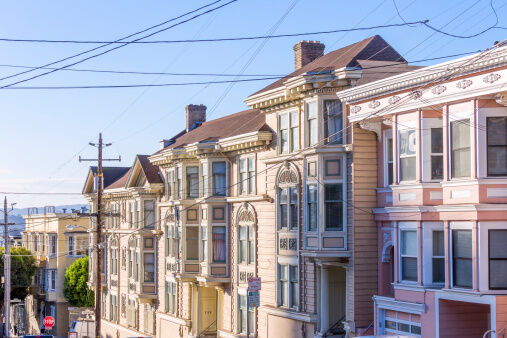 When looking through accommodation listings, know that the term San Francisco Bay Area refers to a large metropolitan region consisting of the city plus nine counties that touch San Francisco Bay. Therefore, a Bay Area listing could put you anywhere within 80 miles of the city. Check listings carefully or consult a map.
Weekly Accommodation Listings
Book a hotel or motel directly with the property, through a travel agent, or via a third party website (known as an online travel agency or OTA). Subject to availability, you can reserve on a weekly basis, although full-service hotels will be costly. A list of San Francisco motels that include parking are reviewed by TripAdvisor users.
More affordable, furnished weekly rentals can be booked online through several websites that are arranged by booking channel or accommodation type. Be aware of applicable service charges, cleaning fees, and deposit policies, and possibly taxes.
San Francisco is a compact peninsula of distinctive neighborhoods measuring only seven-by-seven miles. Walking or biking are good ways to navigate if you can handle the hills or skirt around them.
Parking is both tight and expensive in most places. If you're driving, check on whether the accommodation is on a street with unmetered parking. Public transportation on Muni (short for San Francisco Municipal Transportation Agency) or on BART (Bay Area Rapid Transit) is a viable option for most locations in the city, but not on a 24-hour basis. Otherwise, round-the-clock car services such as Uber and Lyft are convenient.
Advance planning for an extended stay is particularly important as San Francisco is a vibrant destination where blackout dates will arise due to conventions and large events. According to San Francisco Travel Association, the city hosts nearly 70,000 visitors per day or more than 25 million annually. Alternative accommodation types are popular because hotels operate at 85.5 percent occupancy despite at an average daily room rate of $253.